Readings | Carlton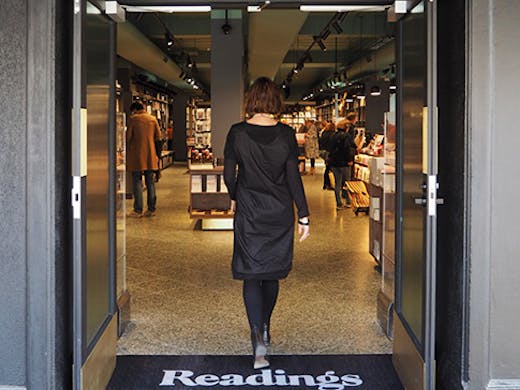 The Verdict
Readings Carlton always felt a little bookish (in every sense of the word). It was never flash or 'cool' exactly—it just had a quiet, tweedy, folded-page dignity. Like a lot of its authors, I guess.
So when people heard their favourite bookshop, and official Best Bookstore In The World, was closing for renovations, the general consensus was: "But...why?"
The good news is, Readings is back. And it's better than ever (despite some sentimental local grumbling).
"The main thing we did," says store manager Joe Rubbo, "was take out the bank vault. The building used to be an old Commonwealth Bank, and that huge iron bank vault had been sitting there for ages. We couldn't use the back of the store."
So let's start with the basics. Readings Carlton will still stock the same eclectic book-gumbo, but the space and the layout have changed. The new store feels broader, wider, more open. There are fewer bottlenecks, and better access for disabled and elderly customers.
New releases are still up the front, but Joe and the team have also moved Australian Studies, History and Philosophy closer to the door. "Local writers and local history have always been really important for us," says Joe. "So they were always going to be up front."
The architects were given a pretty broad brief. Basically: 'Don't f*ck up the magic.' It feels like they largely succeeded. The floor is now wall-to-wall terrazzo stone, click-clacky and slightly cold. The shelves are timber veneer or muted grey, and there's some big flat tables in the middle ("They're for our large format photography and design books," says Joe). The speaker's dial is still firmly tuned to bouncy strings or easy jazz.
Looking for Fiction? It's way down the back, on the right. Presumably for the same reason supermarkets put eggs and milk as far away from the checkout as possible.
The big change is the back of the store. Instead of an old vault that nobody can use, you've got a music room, stocked with new-release vinyl, classic LPs, audiobooks and (stubbornly) CDs. You can even pick up turntables and audio gear.
So what's been the general reception?
"We've had lots of people say they love the new store," says Joe. "But there's always a few people that don't like it. That was expected. They're still attached to the old shop. But I've been here since it opened, and the place was falling apart. We had to change."
Thank god they didn't change too much.
Image credit: Readings
---