Rebalance Pilates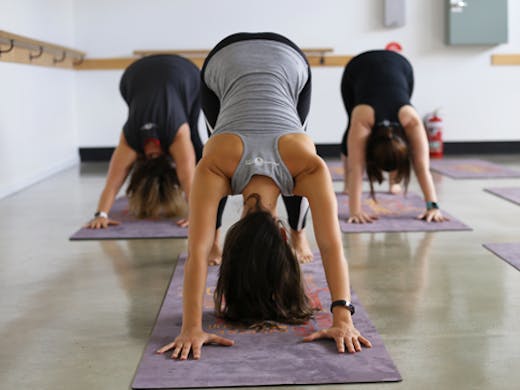 THE VERDICT
This one goes out to your New Year's fitness resolutions. You know the ones. They were mentally listed on the 1st of Jan and then you put them down somewhere aaand...here we are. But better late than never, right? Rebalance Pilates are here to tone you up (pre Amalfi-sun-bed season) and restore some much-needed equilibrium to your hectic agenda. In the fine words of Olivia Newton John, let's get PHYSICAL.
The Rebalance studios are whipping Aussies into shape through a range of classes designed send you into the best kind of sweats. (No, not the S&V chippy kind). Rebalance are offering up Pilates Mat work classes, Pilates reformer classes, Yoga sessions to restore some zen, and body-sculpting Barre classes that will fast-track a serious set of abdominals.
If all this lingo sounds like advanced calculus right now and you'd rather be plotting your next doughnut purchase, don't worry. Rebalance are taking a down-to-earth approach to this mystified, capri-pant-clad world.
"Up until the last few years, Pilates has been considered an elitist activity, catering to movie stars, wealthy celebrities, professional dancers and athletes," says Studio Director Todd Kuhn.
"Rebalance Pilates and Yoga brings the benefits of pilates to the general public, in a fun format, [and] at an affordable price."
The great pillars of pilates? A strong focus on building your core strength (no, reaching for the remote doesn't count), a proven track-record for improving your flexibility, and changeable exercises to cater for any level of fitness. We're not just saying that—you can seriously go at whatever pace your leg muscles desire.
Whether you opt for a cardio-infused Reformer stint, or embrace your inner Swan Lake with a Barre class, after the sesh finishes you're going to feel an immense sense of ouch and most importantly, accomplishment.
Keen on a solo fitness endeavour? Cool. In addition to group classes, Rebalance also tailor their sessions to those requiring special consideration such as injuries via one-on-one sessions.
Meet you for a Monday 8am Reformer class and açai run.
Image credit: Rebalance Pilates
---