Restaurant Shik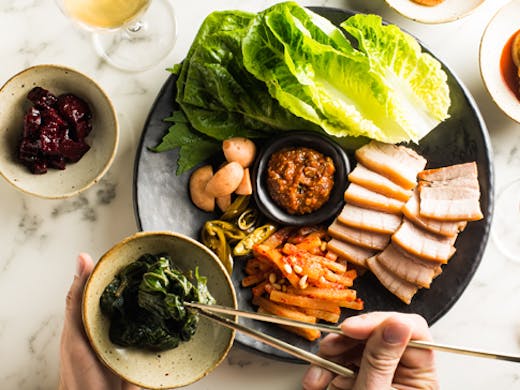 The Verdict
We've always wanted a nom de plume. Something badass like 'Spoons' or 'The Scarlet Shadow'. Not many people get nom de plumes, but Peter Jo is one of them—he's known around town as Kimchi Pete.
And Kimchi Pete has some news, he's just opened a cosy little Korean restaurant in Niagara Ln in the CBD.
The place is called Restaurant Shik. Dimly lit, 65 seats, a gorgeous little L-Shaped space, decked out with marble tables, leather-backed bar chairs and Niagara's signature exposed brick. There's more than a touch of NYC about this place, although the laneway location is vintage Melbourne chic.
Now onto the good stuff, the food. There's plenty of places you can go in the CBD for good Korean BBQ, but Kimchi Pete is aiming a little higher than a simple smoke stack. The meaty menu is broken down into entrees and banchan, the famous Korean sides. We're talking delicate bowls of seasonal kimchi (fennel & coriander, anyone?), or pickled jangajji vegetables—Perilla leaf, green tomato and Korean cucumber.
The idea is to load up with banchan, then pair them with incredible grilled or braised meat. Maybe a little Blackmore Wagyu +5 chuck, kimchi marinated pork neck or lamb rib gamjatang. There's also a few very tempting entrees (we couldn't resist the pig skin terrine with garlic chives).
The wine list has some serious heft to it as well. 60 bottles, most of them natural. There's definitely a Melbourne skew towards natural wines right now, and Pete has assembled a cracking cellar. If vino isn't your thing, try a Korean soju (rice wine) or Hite pale lager instead.
There's even a token Aussie light beer on the menu (literally, it's called "Token Aussie light beer"). Kimchi Pete, you cheeky rascal.
Image credit: Annika Kafcaloudis
---
You May Also Like
Food & Drink
Melbourne, VIC
Fans of flavour and seafood feasts, listen up. Louisiana-style Crawfish sensation,…