Run Club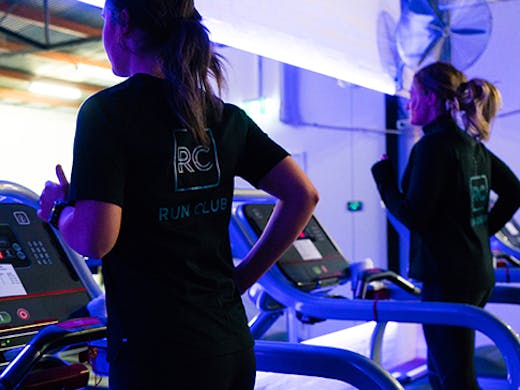 The Verdict
Winter has come, guys. It's bloody freezing out there. And with all this cold, comes all this eating. And with all this cold and eating comes zero exercise. I mean really, who the heck wants to go for a run outside in the pouring rain? And the dark? Not us.
It's a good thing super sisters Rylie McLoughlin and Caitlin Duncan have answered our 'winter bod' prayers. They just opened a dedicated running gym in Cremorne called Run Club.
What the hell is a running gym? Think of it like spin class but with treadmills. It's a way for people to keep fit and healthy in a safe, indoor, non-freezing environment. Best part? It doesn't matter if you're a beginner or an expert. They've designed their classes so that everyone can get down for a sweat.
It was the sisters' own passion for fitness and running that inspired Run Club. "There's just nothing like it," said McLoughlin.
The two stumbled on this Cremorne warehouse space by chance. It used to be all maroon carpets and faded Richmond prints. One year later, they've transformed it into the ultimate fitness oasis. Though Duncan admits, "It was quite tricky organising the tradies". Ahhh yeah. That and she was nursing a newborn baby boy (who's super duper cute btw) #SuperWoman.
Essential oils mist into the lobby, where green plants in grey pots sit on wooden shelves. Then, out the back, 14 state-of-the-art treadmills line up under neon LED lights, specifically programmed to change colour depending on the element of the workout. Red for up-tempo, blue for cool down. Oh, and there's banging tunes of course.
The sisters wanted to keep everything simple and use equipment that wouldn't be harsh on our fragile (now heavier) winter bodies. "A lot of people have poor form. These treadmills have proper form. Rather than just going out for a run it'll build strength, endurance and speed" says Duncan.
There are three elements to every class. First, the warm-up. Then the main session with intervals, sprints and thigh-burning inclines. And lastly, the recovery. You are able to choose from 30-minute, 45-minute or 90-minute classes. A pro running trainer will roam around the floor and make sure those little leggies are all working just fine.
The machines can also be hooked up to common fitness apps like Nike+, Strava and Garmin via Bluetooth, so everyone can track their progress and improve over time.
Eeeeek! There's no more excuses guys. But this club is looking pretty damn good. See you there?
Image credit: Matt Dunne
---