Runya's Room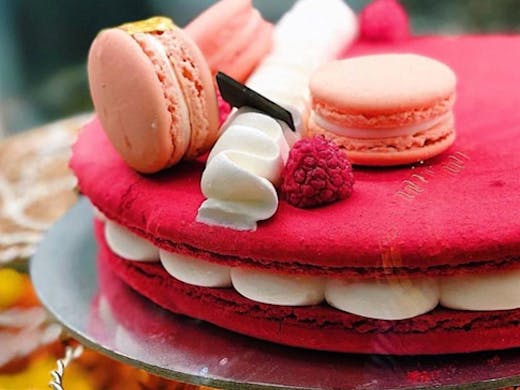 The Verdict
Tucked in a maze of laneways off the hullabaloo of Collins St, there's an uber-fancy High Tea gem wafting with scones, jam and chantilly cream. This Queen-Liz-worthy Arvo Tea parlour is called Runya's Room, and boy, does it take 'cuppa and cake' seriously.
When you sashay up the RR walkway, you'll realise how Alice must have felt when she stumbled into Wonderland. There's cakes galore bedazzling a glossy wall of cabinets, pastel wallpaper pimping out every surface, and an incredibly boujee chandelier hovering over the space. It's all a bit Made In Chelsea, in the best possible way. At the table, you'll scoop up the menu and marvel at the gold-veined Cristina Re tea-wares. NO. Do not try and slide them into your bag.
Runya's Room have a trinity of high tea relays on offer. There's a Traditional High Tea with coffee and tea (classic), a Sparkling High Tea with some Chandon NV Brut or house wine to up the ante, and for the wiiildest of tea-partiers, a Champagne High Tea with a glass of Veuve Clicquot. You know that Beauty and the Beast scene when the teapot comes to life and does a musical theatre number? Go the boozy route and you may just experience it IRL.
Each degustation comes complete with copious treats. We're not exaggerating. You might just want to ensure there's a stretcher waiting for you on standby. Thank us after gorging on dinky sandwiches (far more exotic than the ones Mum used to pack for school), a slew of canapés and ALL of the petits gateaux. That's french for little cakes (you'll come out bilingual after your visit).
If you're not in the mood for the whole tasting saga, probs coz you have to walk the corgis in an hour (ugh), try the farmer's breakfast or Nutella hotcakes from the brekky menu, or some insanely decadent inventions from Runya's own patisserie chef.
Just before you roll out the door to purchase a double-breasted blazer and velvet gloves, make sure to gobble up the scones. That's an order. They're made with rosewater and orange blossom, and could be the greatest thing we've ever eaten. Then comes the tea. There's everything from a Paris Black to a Japanese Sencha Green, so eenie meenie minie MORE please.
Call Nan with the new brunch plans already. And remember, pinkies up.
Image credit: Runya's Room
---
You May Also Like