Rustica | Hawthorn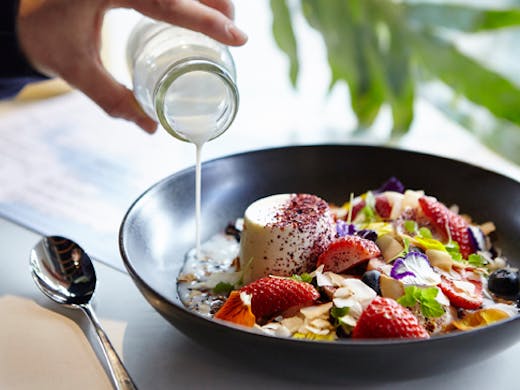 The Verdict
Say hello to the latest member of the Rustica sourdough empire. What started as baker Brenton Lang's drool-worthy CBD cronut factory is now popping up further and further east. Swan St got a lucky first expansion, and now it's Hawthorn's turn. Judging by the buzzing crowd waiting for tables on Sunday morning, the locals are pretty stoked by this decision.
What's nice about Rustica is that, while the quality of the bread, sandwiches, coffee and brunch stays the same, each new place has a local kick. The Richmond store FEELS like a Richmond store. And this one comes with a few Hawthorn flourishes, just to let you know you're entering a suburb where Range Rovers outnumber people. Think polished brass highlights, blue velvet bench seats and artful, hanging rainforest-type plants everywhere. It's bright and on-trend, without trying too hard.
Head chef and co-owner Tristan White has kept a lot of the old Rustica classics on the menu, but there are a few Hawthorn-specific dishes that they're hoping will appeal to the local brunch crowd. We've got our eye on a couple of winter warmers: the slow-roasted Lamb Shoulder Baguette with cumin yogurt, red onion and iceberg lettuce (on Rustica's own sourdough, naturally), and the Baba Ganoush, topped with grilled halloumi, Roma tomatoes, poached eggs and greens.
This is classic Rustica cooking: big sandwiches, clean flavours, and a box full of home-baked treats to take home. Gontran Cherrier and Baker D Chirico cop a lot of Melbourne's dessert attention, but if you've ever bitten into one of Rustica's Crème Brûlée doughnuts, you'll know these guys can match it with the best.
Image credit: Michelle Jarni
---