Saibu No Akuma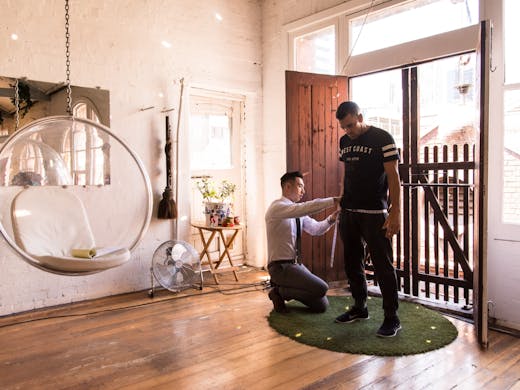 The Verdict
All you guys out there in your 20's and 30's are well acquainted with the struggle of finding a well-tailored suit at an affordable price. Thankfully, the 4-man crew behind the bespoke menswear lifestyle brand, Saibu no Akuma ('devil in details' in Japanese), are here to solve your problems.
Nestled in a NY style loft in the trendy Rankins Lane, these guys are shaking up Melbourne's suiting scene. Their method and streetwear influences are setting them yards apart from your average tailors.
Whereas most men's tailors run off a pre-prepared pattern; at Saibu, it all starts with a blank canvas. The guys work together with their customers, ranging from plumbers to corporate workers, to harness their creativity and imagination, whilst also challenging them to think beyond the traditional. This type of intimacy has created a Saibu community, whereby, as co-founder Tony Wu recognises, "our clients become our mates". On weekends, the team turns up the beats and shares a couple of brews with their 'customates' (although let's be clear, this is no Gentlemen's Club kinda vibe!).
Yes, the product is suiting, but a discernible streetwear flare comes through in the brand's marketing activities. You will find the studio decked out with black and white streetstyle photography and the boys often rockin' fresh kicks paired with a suit jacket. Exclusive collections created in collaboration with local partners, such as Capsule menswear, gives the Saibu boys the opportunity to allow their streetwear vibe to shine through.
A ready-to-wear collection is currently in the works, with accessories having already dropped online and plain black & white shirts, referred to by the boys as "coffee wear", are soon to come. Bursting with ambition, the guys aim to have their full Spring/Summer RTW collection released by the end of the year.
Drop-ins are welcome on Fridays and Saturdays, but appointments on other weekdays must be reserved online. Seriously guys, it's time to ditch those ill-fitting suits and let the crew at Saibu suit you up and sort you out.
Image Credit: Saibu No Akuma
---