Saint James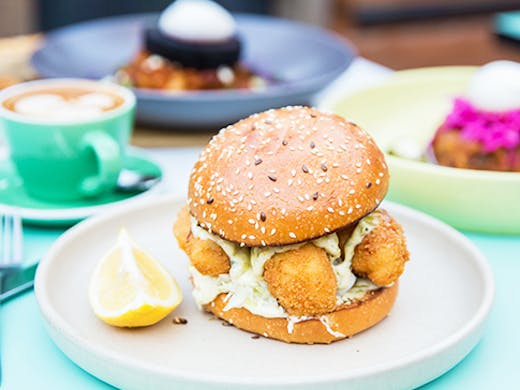 When you hear 'British food', what comes to mind? Jamie Oliver and some lovely jubbly? Yorkshire puds and Beef Wellington? It's a cuisine you don't see heaps in Melbourne, which is strange given the fact we've got the Queen on our money and all that jazz.
For Richard Donovan and Craig Tate, it was high time Melbourne's cafe scene got the Pommy makeover, and that's where their cafe Saint James comes in. This place popped up on the cut-throat Tooronga cafe strip back in 2016. This neighbourhood is like brunch Darwinism—only the strong survive.
As you might have guessed, Richard and Craig are brits. They grew up together in back home Newcastle (don't ask them about Geordie Shore).
The menu is a compromise between good old English classics and contemporary Melbourne brunch. Which means, while they do a cracking chilli scramble (topped with house-cured ocean trout), there's also a black pudding on the menu, served with spiced beans, homemade ricotta and a poached egg.
Personally though, if you're only gonna try one thing, make it the fish finger butty. Exactly what it sounds like: market fresh fish, crumbed and deep fried, served on a milk bun with crisp cabbage slaw and crushed pea aioli. If anything in this world is lovely jubbly, it's this thing (considering the boys are from Newcastle, maybe "propa good like" would be more appropriate).
There's a cute courtyard out back or the cosy coffee nook inside, but our favourite spot is up at the window, fish butty in one hand, strong latter in the other. The guys get the beans from These Days in East Melbourne, and Richard really knows his way around the espresso machine.
The croissants in the cabinet are from Noisette, but pretty much everything else is made in-house. Expect the usual rotating assortment of sugary smackerals, muffins and pastries.
If you got propa mortal last night, these boys will bring you back to life. Two very enthusiastic thumbs up.
Image credit: Jenna Fahey-White
---