Sammy's Hair Grooming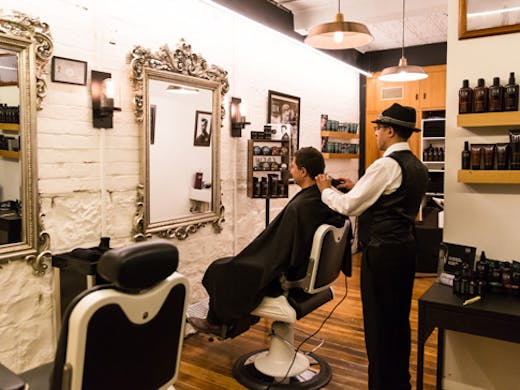 The Verdict
Men of Melbourne, put down the clippers. Your barber has arrived.
Sammy's Hair Grooming has popped up in The Kelvin Club (one of the most underrated spaces in the city—you heard it here first), and it's everything a well-groomed guy could ask for.
Owner and master barber Sammy Buoyad developed his craft in Morocco, then perfected it in New York City. This guy boasts a resume that includes chief barber of the Saudi Royal Family. He spent 15 years working as a renowned master stylist in Manhattan. And now he's set his sights on conquering Melbourne's hair elite.
The ethos of Sammy's is old-school hair care. A proper barber who appreciates the subtleties of the craft. The shop's fit-out is classy too: all rich Victorian feels, dark stained timber, leather bound chairs, and early century lighting. Alongside grooming giants American Crew and GAIA, the product range is curated by Sammy himself. And yep, you can get a proper hot cut-throat shave as well.
Booking is available online (royalty or not) making it even easier, and unlike most high-end barbers they're happy to take walk-ins. If you want to feel what it's like to get your hair cut by a guy that worked with some of the world's biggest celebs...well, this is pretty much your only option.
Swing by the Kelvin Club and say hi. Tell Sammy we sent you.
Image credit: Jenna Fahey-White
---