Santa Carla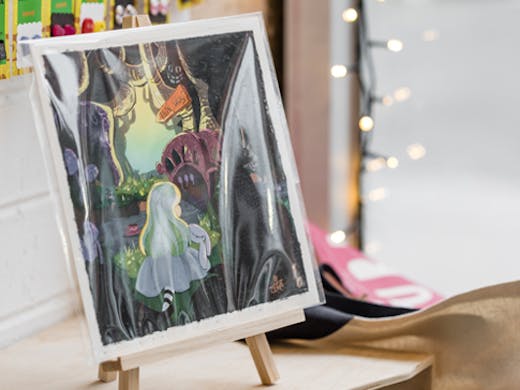 The Verdict
For husband and wife team Alex and Jode, the secret to a good homewares store is pretty simple:
"We just stock things we like."
It's not a bad way to go. If you're passionate about local designers, indie artists and off-beat homewares, there's a good chance someone else in this crazy city is too. Alex and Jode set up Santa Carla a little while ago as a space to champion local Melbourne talent, and it's been a runaway success ever since.
A lot of lifestyle stores end up a little same-y: elk head broaches, soy candles, Banksy-style street art and other things you find on very basic Pinterest boards. Santa Carla isn't like that. It's more like somebody's bedroom: there's an original and distinct sense of style. It's got personality, and it doesn't try to appeal to everyone.
You'll find the store in Sparta Place, surely the best-kept secret on Sydney Rd. A tiny, heritage cul-de-sac, originally built for the garment industry and now packed with eclectic food stores, cafes, cheesemongers, boutique barbers...and Santa Carla.
So what does it stock? A bit of everything really. Alex is in charge of the music, and there's a fantastic mix of indie CDs on display (think obscure talent like Dr. Monokrome, Panacea, Supa Dave West and Phonophanatic.). You can even take them for a test-drive, courtesy of the in-house headphones.
Jode handpicks the jewellery range, with a definite skew toward the whimsical. Think beardy badges from Cheerio Paper Co, delicate geometric pendants and bubblegum pop-art from Miss-a-Ree Guts. Not your standard Finders Keepers stuff, this.
Perhaps the biggest surprise is the comprehensive comic book and indie publishing collection. One step above zines, two steps below X-Men. Graphic novel fans could spend a happy hour just browsing the racks, picking up little treasures like Believe by Tom Taylor and Emily K Smith.
Expect the unexpected.
Image credit: Griffin Simm
---