Sarah Sands Hotel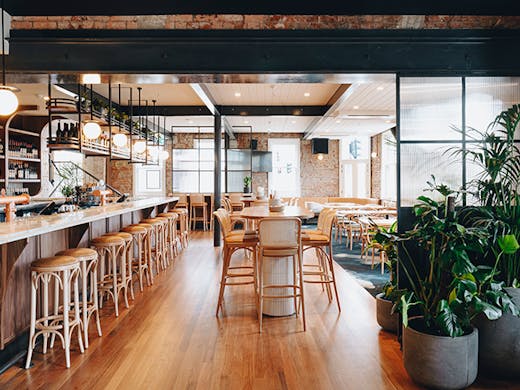 The Verdict
Brunswick locals are in for a treat, as the Sarah Sands Hotel on Sydney Road has re-opened. This hotel, led by Australia Venue Co and award-winning architects from Y studio, has had a two million dollar facelift designed to return this local landmark to its former glory.
Sarah Sands Hotel has a long history, over 150 years long in fact with the original hotel opening in 1854. Situated at the edge of the city, this building acted as a gateway to the vibrant Sydney Road for generations. After closing in 2017, Australian Venue Co saw the building's potential and has spent the last three years restoring its original facade and reconfiguring it into a two-storey bar and kitchen venue, designed specifically to cater to the locals.
Sarah Sands is in good hands, as this organisation is responsible for some of the most iconic historical pubs in Melbourne, including O'Connell's, and The Duke of Wellington, which is Melbourne's oldest licensed pub. Co-CEO Paul Waterson hopes to restore Sarah Sands to similar heights. "Opening a venue that has been closed for a long period of time is always rewarding—we love bringing beautiful old pubs back to life," said Paul.
Executive Chef Telina Menzies is responsible for developing the menu, a sophisticated take on pub classics promising lots of hearty vegetarian options including a mind-melting eggplant parma, pizzas, and grass-fed steaks.
Sarah Sands Hotel re-opened in May 2021 and, just a tram ride away from the city, is the perfect place to start or end a night out. So if you're a local to this area, or just stopping by, be sure to keep to get down.
Image credit: supplied
---