Scienceworks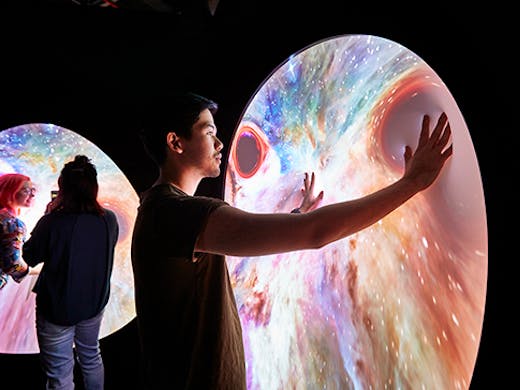 The Verdict
Forget everything that comes to mind when you think of science. Including your old physics teacher who crushed your dreams of being a scientific genius when he gave you a D on your physics test (it's a sore spot, okay).
If you haven't already been to Melbourne's very own Scienceworks in Spotswood, it's time to get on down. This place has grown big-time since we were kids...
Push it, pull it, spin it, bang it. Scienceworks is probably the only joint that will get you (and the kids) involved and excited about science. And I mean really excited. From a lightning room with a Tesla Coil capable of generating over 200 million volts of electricity, to a Planetarium that presents a simulated display of the night sky, this place has come a long way from just racing Cathy Freeman light along the wall (not that that wasn't amazing as a kid).
The Scienceworks doors opened in 1992 with the vision of creating a place where young folk could get physically involved with science. Pretty ambitious for the early 90s, when you think about it. With a nod to Melbourne's industry, heritage and applied technology, the ScienceWorks building was purposely located near the century-old Pumping station (one of Australia's most important industrial heritage sites), under the arc of the West Gate Bridge.
Flashforward 26 years and Scienceworks has now evolved to include hundreds of activities to challenge the curious minds of quick-thinking kids, and their parents who can't remember what an electron actually is. In fact, you're just as likely to find a little one learning planets as you are to find grandpa strolling amongst some of the gigantic machines that have kept our city running.
There's always something new to check out at Scienceworks.
Currently, there's an Above and Beyond exhibition being held that takes you on a journey into the cosmos. Presented by Boeing and produced in collab with NASA, you're invited to design and fly your very own aeroplane, pilot a drone into the eye of a hurricane and ride an elevator to the edge of space. Ummm…. Amazing!
There's even a permanent STEM-themed exhibition that was launched in May this year called Beyond Perception: Seeing the Unseen. The exhibit is worth a whopping 3.4 million buckeroos and gives teenagers and adults the opportunity to examine the invisible forces that bind our world together (look at me now, Dr. Horran).
If you're looking for a fam day, there's plenty to do with the kiddies as well. We recommend the Sphero Rollbot Workshop, where kids and an accompanying old person can build an understanding of robots and programming language. Or, for something a little less interactive, there's Tycho To The Moon. An audio-visual tour with Tycho the dog as they blast off into space. Chuck the Astrolight Festival (September 8) in your calendar as well.
Of course, we couldn't forget to mention the food options. Scienceworks has its very own café if you wish to purchase your lunch or a snack. Alternatively, they also have gas BBQs and covered eating areas for picnics (no experiments around the gas bottled, please). These are free to use as well… BOOYA! We know what we'd be choosing.
So, through hands-on exhibits and activities, live demonstrations, tours and shows, we think Scienceworks may be the perfect activity destination. Yeah, science!
Image credit: Museums Victoria
---