Scout House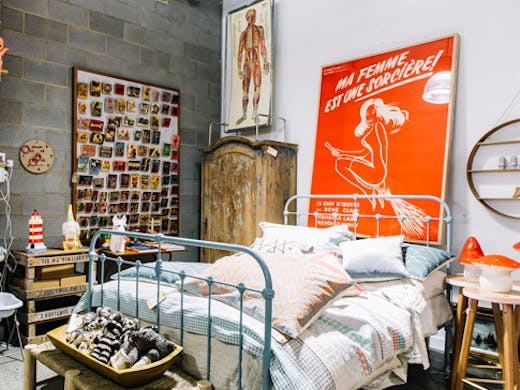 The Verdict
If you're into off-beat homewares, browsing St Kilda's Scout House represents the classic kid-inside-candy-store conundrum. You'll be lucky to walk out of there without three planters, two industrial desk lamps and an 8-ft bespoke dining table.
Refreshingly, Scout ISN'T another mod-Scandi temple to refined and elegant minimalism. God knows we've got enough of those. Owner Orlando Mesiti finds inspiration in France, Belgium and Holland, more so than Denmark and Sweden. There's a scruffy, industrial edge to a lot of the pieces, and Scout isn't afraid to stray outside the hallowed pastel palette. Mesiti scours the markets of central and western Europe to source a lot of the antiques, everything from French Pine breadboards from the late 1800s to vintage Dutch bistro tables.
On top of addictive second-hand bric-a-brac, Mesiti also stocks a great range of bespoke, locally made furniture. Beds, dining tables, deck chairs, sofas—they're all made-to-order from the finest Australian materials. The style is contemporary country with a playful, rustic edge. (Check out the Beetle Track Stools, hand-carved from huge logs by Butterland sculptor Greg Hatton.) There's even a gorgeous range of Cire Trudon scented candles.
Lazy shoppers will find the online store well-stocked: you can pimp out your apartment while sitting on the couch eating Mee Goreng if you want. But the real fun lies in Scout House itself, stumbling on some forgotten treasure in the bricks and mortar store. It's an Aladdin's Cave of cool sh*t—and that movie would have been super boring if they could have ordered the lamp via PayPal...
Image credit: Simon Shiff
---