Shadowboxer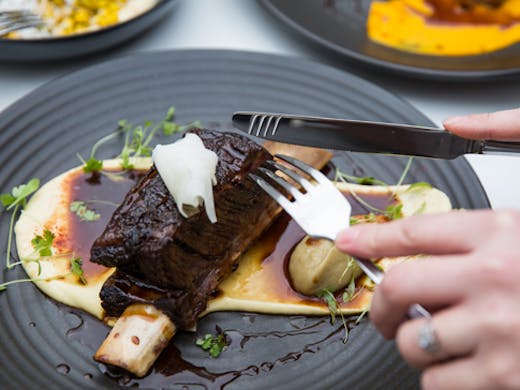 The Verdict
Toorak Rd isn't short of the odd classy wine bar and bistro, but most of them don't have a leafy, north-facing terrace ready-built for lazy summer afternoons.
Shadowboxer is the latest venture from foodie triumvirate Michael Thom, Luke Thompson and Nick Aitken, a team that honed their skills at Naked For Satan, Borsch Vodka & Tears and Lucky Coq, before opening their own place in December last year. The name comes from Thom's baby daughter, whose tiny arms and legs were always on the move.
This place is set up for long lunches, but it'd make one hell of a date night venue. The fit-out is slick and contemporary, a masterstroke in minimalism from local designer Fiona Lynch. White brick walls, soft lighting, dark timber and a well-stocked gunmetal bar.
Behind the bar you'll find Thom and Thompson (Thom handles the wine cellar, Thompson the spirits). The vino is small batch and parochial: local wineries like Adrian Rodda's Cuvee de Chez in Beechworth. It matches the homegrown beers and spirits from independent distilleries like Starward and Applewood. If you like your beers hoppy, the Bad Shepherd Tiny IPA is particularly good.
In the kitchen, Chef Liz Contini (ex Morris Jones and Borsch Vodka & Tears) has put together a smart and sophisticated little menu. Start with the carrot and mozzarella fritters (served with beetroot, macadamias and a dollop of crème fraiche) then move onto something more substantial. Personally we're liking the Cape Grim beef short rib with a schmear of parsnip puree, smoked eggplant and tangy pickled kohlrabi. A truly epic date night combo.
Image credit: Jenna Fahey-White
---