Shop 225 Pizzeria
CONTACT
Ph: (03) 9077 4904
Visit Website
225 Melville Rd
Pascoe Vale South , 3044 VIC
Show on map
open
---
Opening Hours
| | |
| --- | --- |
| SUN | 5:00pm - 9:30pm |
| MON | 5:00pm - 9:30pm |
| TUE | 5:00pm - 9:30pm |
| WED | 5:00pm - 9:30pm |
| THU | 5:00pm - 9:30pm |
| FRI | 5:00pm - 9:30pm |
| SAT | 5:00pm - 9:30pm |
---
The Details
Cuisine
Need to Know
Delivery
Gluten-Free
Good for Groups
Great for Dates
Healthy Options
Serving
---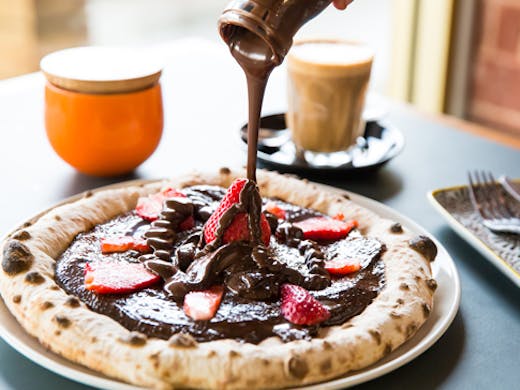 The Verdict
There's a lovely no-nonsense feel to Lorenzo Tron and Roberto Davoli's Pizzeria in Pascoe Vale South. Bubbling thin-crust pizzas issue forth from the glowing mouth of a giant wood-fired oven, and it's clear they're the star attraction. The restaurant didn't even offer salads and pasta when it opened (the theory being they took up valuable stomach space that could be better filled with dough, salami and cheese).
The menu has broadened slightly in recent months, and you can now get a select range of pastas and salads if the mood strikes (try the Maccheroni Alla Norma—rich Napoli sauce, fried eggplant, basil and crumbly ricotta). But really, if you come here and don't order a pizza, you're doing it wrong.
The pizza is classic Neapolitan style: bubbling and blistered dough, that classic thin-crust crunch, and high-end toppings like artichoke, truffle oil, stracciatella di bufala and spicy n'duja paste. Meat lovers will enjoy the Barone (Pomodoro, fior di latte, salami, olives and chilli) or the Il Dottore (fior di latte, home-made Calabrian sausage and Italian porcini mushrooms). But the surprising thing about Shop 225 isn't the quality of the pizza, it's the vegan and vegetarian selection.
Over half the pizza menu is stamped with an animal-friendly 'V', and Lorenzo has even gone so far as to create a vegan 'Nutella' substitute (!!) You can get it drizzled on the 'Nutella' Calzone and 'Nutella' Pizza, topped with fresh strawberries and icing sugar. This stuff is so effing good. If it came to a Pepsi Challenge-style blind taste test, you'd be hard pressed to tell it apart from the original. We're not sure what sort of alchemical magic was involved in creating a vegan 'Nutella' equivalent. Just be glad someone took the leap.
Image credit: Jenna Fahey-White
---