Shyun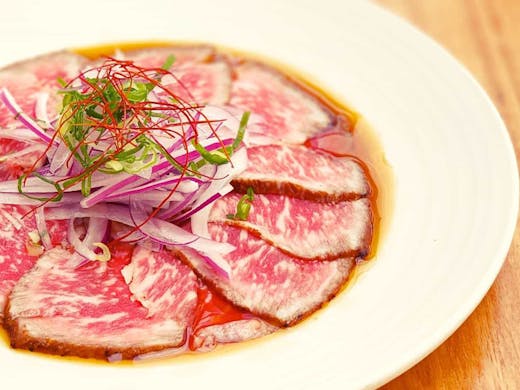 The Verdict
'Shyun' in Japanese means 'season' and the friendly and welcoming team at Shyun in Carnegie are dedicated to just that: serving up the freshest and tastiest Japanese dishes using the best seasonal produce and ingredients.
While the menu can pivot according to what's in season and available—making every visit unique—Shyun has a stellar line-up of signature favourites like wagyu tataki, tuna tataki, wagyu steak and the mega chirashi, a delectable plate of impeccably presented seafood sashimi. Oh, and as for the Wagyu, expect only the best as Shyun proudly sources its heavenly Wagyu from Master Kobe—an award-winning Wagyu beef supplier that's globally revered as Wagyu beef perfection. If you're unfamiliar with the Wagyu grading system, it varies from country to country and is based on the beef's quality and marbling. In Australia, our grading system is similar to that of Japan's with 9 being the top score. Master Kobe only uses cattle with a minimum of AA8—meaning the rarefied realm of baller beef.
If Wagyu isn't really your vibe (more for us), Shyun's seafood is equally as spectacular, sourcing its salmon from Tassal. Pairing quality produce with exceptional craftsmanship, each dish is meticulously crafted, no matter what it is. Udon, tempura, chicken katsu—you name it, they serve it.
As for the small yet cosy space, the bustling restaurant feels authentically Japanese with its minimalist and understated decor. Accented with red, timber and nostalgic Japanese paraphaphenalia and photographs, it's easy to forget you're just on the fringe of Melbourne's CBD.
Open for lunch and dinner from Wednesday to Sunday, bookings and walk-ins are both welcome.
Image source: Instagram.
---