Simply Brows & Lashes | Camberwell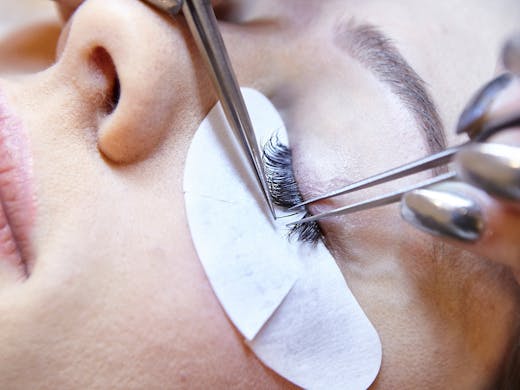 The verdict
When it comes to grooming, there's nothing that's more paramount than investing in bold brows, and lashes to complement. Luckily, the team at Simply Brows & Lashes in Camberwell knows how to work with all kinds of brows and lashes—from finer features that need a little filling out, to bushy brows that need shaping on the regular.
Simply Brows & Lashes has revolutionised our maintenance routine, largely thanks to threading. Every treatment starts with a consultation to discover the style of brow that will suit you, working to create a look that's uniquely suited to your face. The threading technique is much kinder to skin than traditional waxing techniques—it doesn't stretch and age the skin, and removes fine hairs that a wax can miss—using cotton thread to lift and remove stray hairs, follicle and all. Better yet, it's perfect for sensitive skin as it requires no product to be applied to the eye area, and gives a much more defined line due to Simply Brows & Lashes' expert precision. Defined brows without damaging what nature's given us? Hell yes.
If you're in need of a little more lash and brow filler, custom blended tints for both areas are on offer, helping you to get the most out of your assets. With over 25 different shades and tones, the Simply Brows & Lashes team ensure that you'll leave with a natural look that complements your hair colour and complexion. If your lashes need a lift, you can opt for individually applied silk lashes for a fuller look, or super-fine mink lashes for soft, eye-flutteringly good extensions.
For the day-to-day maintenance, Simply Brows & Lashes' brow kit, complete with mineral pigment and brow brush, is all you need. The pigment can be built up in layers, allowing you to achieve a defined, full brow. If you're headed to an event and need your brows to last late into the night, the matte brow mascara is a godsend—all shape, no shine, hell yes!
Whether you're a brow novice or a die-hard devotee, sorting a look for a special occasion or in need of a quick mid-week pick-me-up, you're in good hands with Simply Brows & Lashes. To book into the Camberwell beauty salon, get in touch or book via the website—and get ready for a beauty lift that looks naturally stunning.
Simply Brows & Lashes also has studios in South Yarra and Northcote, which both offer IPL hair removal and waxing.
Image credit: Jenna Fahey-White for The Urban List
---
You May Also Like