Skipping Girl Take Away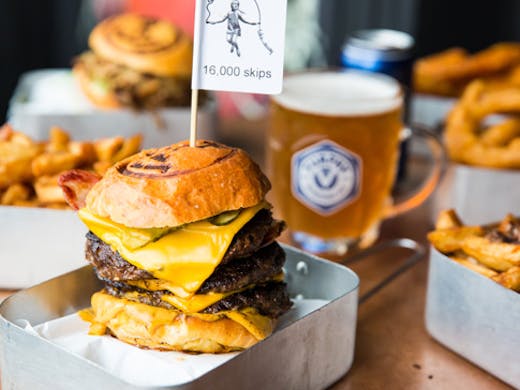 The Verdict
Just when you thought Melbourne couldn't fit another burger joint into its saturated food scene, Skipping Girl popped up and reminded us that you can never have too many good burger places. Taking over an abandoned fish & chip shop in the back streets of Abbotsford, Skipping Girl is the home of locally sourced meat and real brioche, as well as triple cooked chips. TRIPLE.
Make your heart skip a beat or two with the 16,000 Skips burger—that's three wagyu beef patties, three slices of cheddar cheese, and three pieces of bacon. H-h-heart attack. All burgers also come mild, but feel free to 'pick your heat' with over 200 saucy condiments lining the shelves.
And now little skipping girl, Audrey, is all grown up, with the addition of an upstairs bar for some cheeky fun. Decked out in all your fave burlesque girls, you can rub shoulders with Jessica Rabbit and Rita Hayworth while sculling one of the shop's newest alcoholic milkshakes. It's all thanks to an artist from across the road (literally), Jean-Luc Syndikas. Also on the menu are some Jarritos cocktails and of course, all your classic bottled and tap craft beers.
The Skipping Girl team are dead-set focused on investing their time and money in delivering top-shelf burgers (48-hour buttermilk-brined chicken anyone??) complete with branded buns to remind you heaven is a place on earth. And not to worry, vegans, because you can 'Go Naked' with their vegan selection—replace your meat with a bowl of chips or salad. Also heads ups: all their buns are gluten-free. Honestly, could it get any better?
With the 2016 Big Burger Biannual award for best burgers, chips, and drinks to their name, you can bet your buck you'll be needing a new pair of jeans after a visit.
Image credit: Jenna Fahey-White
---