Smith St Bistrot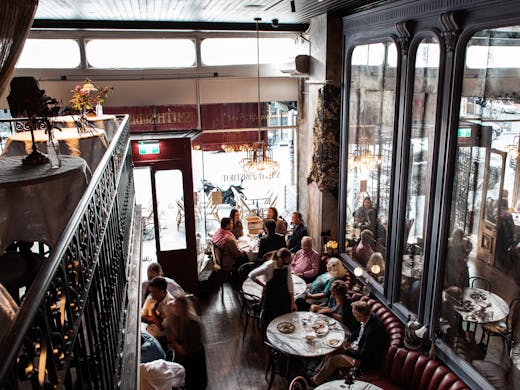 The Verdict
Scott Pickett, Melbourne chef and restaurateur has just opened the doors to a new late-night French bistro in Collingwood. The aptly named, Smith Street Bistrot is the newest venture from the Pickett team and features Daniel Southern of Bar Margaux as head chef and Tash Sorensen from Embla running the show as restaurant manager.

The all-new diner has serious yesteryear charm, reminiscent of the early 20th century brasseries and speakeasies of Paris. Marble tables and dark-stained timber floors fill the space with Victorian period architraves and chandelier lighting hangs from the ceiling. There's ample space with floor tables with burgundy leather booths, bar seating and even a mezzanine level with patterned wrought-iron fencing. The new Bistrot even features its own private dining space at the top of the spiral stairs, or ''La vie en Rose' as its been titled, where you and 70 of your nearest and dearest can feast in peace.
Taking over the former lodgings of the heritage building where Saint Crispin once resided, together Pickett, Southern and Sorensen are bringing in a swinging menu of decadent French classics. We're talking caviar, pate, dry-aged steak with peppercorn sauce, Vol-au-vents with snails and more, whilst the on the dessert front, things are equally indulgent with a staple raspberry-infused soufflé and crème caramel to finish
As you'd expect from this level of establishment the selection of drinks is unmatched. Drawing inspiration from its French influences you'll find a menu with imported drops with options for natural and organic varietals as well as a refined collection of cocktails, straight from the mind of Sorensen herself.
Image credit: Alex Squadrito
---
You May Also Like
Food & Drink
Melbourne, VIC
Fans of flavour and seafood feasts, listen up. Louisiana-style Crawfish sensation,…