Smithward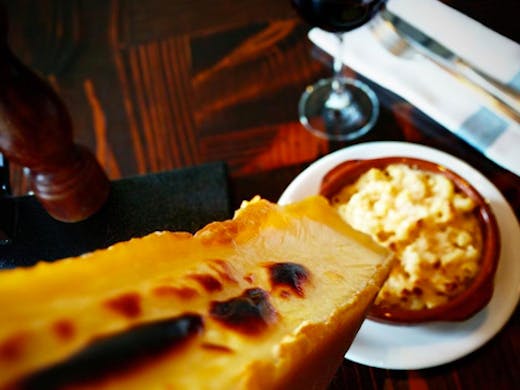 The Verdict
What do we want from a good wine bar?
First, the atmosphere needs to be right. Low lighting, moody leather and dark timber, maybe a couple of flickering tea candles. You also want the space to err on the small side, warm and cosy while it's blowing a Melbourne gale out the window. Lastly, you need delicious wine, and not just the stuff Dan Murphy's is stocking over $40. We're talking small batch, local vineyards who really know their stuff. Interesting drops you won't find down the local bottle-o.
Smithward in Collingwood ticks all those boxes, and then some.
It's a sultry little wine bar from owners Georgina Russell and Graham Hill, a moody mix of cream and navy tones, blue tiles on the curved timber bar, mismatched pendant lights and a couple of painted budgerigars (Edgar and Wilbur) peering down from the wall.
There's no kitchen at Smithward (there's literally no room for one), but that hasn't slowed Georgina and Graham down. They've got a cheese list curated by the excellent Harper & Blohm in Essendon, and (hells to the yes) it features a gooey, bubbling loaf of raclette. There's also a select charcuterie range, sliced to order, plus house-baked sourdough and Spanish tortilla. Your standard nibbles, but all handpicked from the finest local produce.
Speaking of local, let's look at the wine list. Georgina and Graham rotate the bottles regularly, and there's only ever eight on pour at any one time—three whites, three reds, a rose and a sparkling.
The plonk is sourced almost exclusively from Victoria, which gives the list a lovely parochial edge. Smithward's owners make regular trips out into the Victorian countryside, chatting to vintners and checking out cellar doors from Beechworth to the Bellarine. You can check out what bottles are on offer by following Smithward's Insta feed.
Need a kicker? How about this. The bar is now doing Rac n' Mac: creamy mac n' cheese, topped with molten Raclette, grilled to order and scraped right off the wheel. Goes great in winter with a big glass of Pinemount's cherry-spiked Syrah. Date night sorted.
Image credit: Smithward
---
You May Also Like