Sneakerboy | Chadstone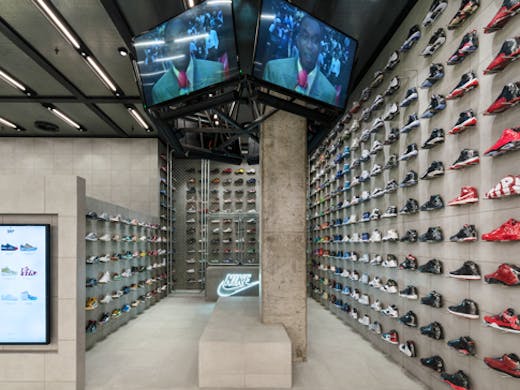 The Verdict
Sneaker-heads, listen up, because Sneakerboy just opened its latest concept store in Chadstone, and it's looking absolutely ridiculous. If Turtle from Entourage had dreams, they would look something like this: a brushed-concrete Trainer Temple, big flat screens hanging from the ceiling, decked out in cutting-edge street footwear.
Sneakerboy has been around for a little while, busting onto the Australian scene back in 2013 with a radical concept: a sort of online/bricks and mortar hybrid, where you could shop in-person, but order through an app. No more hunting through the shelves for stock—the guys at Sneakerboy would order your model and size from the depot and ship it straight to your front door.
The Chadstone store is the next logical step for the brand, a huge fit-out on Chaddy's so-called 'luxury row' (their retail neighbours include Burberry and Chanel). The stock is, as you'd expect, insane. The latest models from brands like Valentino, Dior, Celine and Balenciaga, plus limited-edition stock from Nike and Adidas, among others.
And just like back in 2013, Sneakerboy are disrupting the retail space. This time with something they're calling 'Recommerce'. It basically means that Sneakerboy acts as a place not only for sneaker-lovers to pick up the latest gear, but to sell their OWN shoes to fellow shoe-enthusiasts. Like one big, industrial-mod marketplace. You can bring in your sneakers, chat with other addicts, swap merch and sell your wares. They're calling it the DSK ('distressed stock exchange').
It's an innovative concept. Sort of a bricks and mortar eBay.
"In 2013, we were saying that if people are going to shop online, we'd rather they do that in our stores than in their bedrooms," says Sneakerboy founder and creative director, Chris Kyvetos. "Now we say that if they are going to buy sneakers off each other we'd rather they do that in our stores than in the carpark."
Image credit: Sneakerboy
---