Sole Finess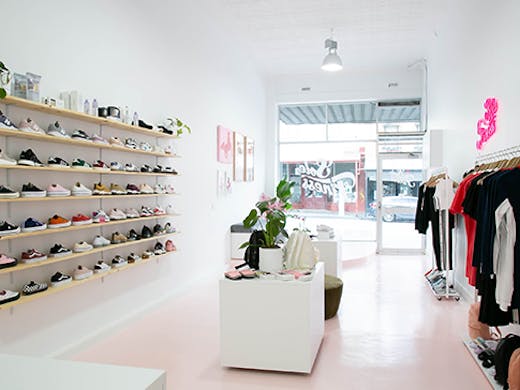 Melbourne has copped Australia's first female-driven bricks-and-mortar sneaker store, and it's about bloody time.
You might have heard of these guys before. Sole Finess have been killing the sneaker game online for over two years, and now they've given us a sweet space to shop a refined but comprehensive range of kicks. The first flagship store has a definite feminine vibe: think pastel pink floors, neon pink signage, hanging greenery and original works from local female artists.
But let's be honest, us girls just want somewhere to cop good kicks and the latest drops, and that's where Sole Finess delivers. The curation will feature unisex core classics and sports lifestyle products with premium silhouettes bringing the hype. You can get everything here from Puma suede classics to Converse high-tops and Adidas Continentals. You can shop the full range online here.
Sole Finess are all about that by-women-for-women culture too. All you need to do is scroll through owner Murata's Instagram feed to know you're in safe hands—this woman knows her sneakers.
The first store of its kind in Melbourne, Sole Finess aims to drive the evolution of women's sneaker culture in Australia, and we're on board. Nike, Adidas, Vans and Converse are some of the labels you can expect to see on the reg. And as the sign out front says, this place is 100% "for the honeys".
You can check out Sole Finess' new location Wednesday through Saturday, 11am to 6pm.
Image credit: Sole Finess
---
You May Also Like