Spencer & Co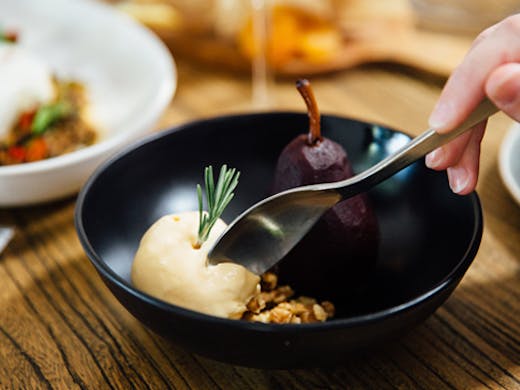 The Verdict
There's a blackboard at Spencer & Co which reads 'The best things in life are cheese'. This pretty much tells you everything you need to know about Spencer & Co.
For one thing, they know cheese. Spencer & Co is a new wine bar and provedore on Rathdowne St in Carlton North, and they've got a cheese larder which has the mice of Melbourne VERY excited. Triple cream cows' milk Delice de Bourgogne. Riverine blue from Greece. Rare and imported artisan cheeses from all over the world. You can settle in with a nice cheese board, or pick up a wheel to enjoy back home.
But Spencer & Co is also about FUN. Which is why they've taken one of their cheeses (a sheep's milk cheese from Italy, FYI) and used it to garnish an espresso martini. The weirdest thing? It actually works. The sweetness of the cheese sets off the coffee perfectly. This thing is 100% our new favourite Carlton nightcap.
It helps when you're drinking in a wine bar as cute as this. Spencer is tucked inside a remodelled classic house on Rathdowne St, which means you've got a fantastic gable on the ceiling, an upcycled timber feature wall, moody candlelight and a homey little patio out front. The guys have even taken a leaf out of Gerald's book—there are chess sets and checkerboards available up at the bar.
Unlike most wine bars, though, this place has put a LOT of effort into the food menu. 'Restaurant' wouldn't be a stretch. Here's what we recommend: start with the polenta chips with Romesco, and a plate of the zucchini salad (served with gooey Burrata and sweet peppers). After that, load up with a mussel pot, steamed in white wine, chilli and garlic, or maybe the signature Chicken Cotoletta—parmesan and herb-crusted schnitzel with potato gratin, zucchini, peas and onion. YUM.
And for dessert? It's got to be the Roquefort ice-cream with red wine poached pears and rosemary. We could write an essay on this thing alone. Just try it. Thank us later.
Image credit: Annika Kafcaloudis
---
You May Also Like
Food & Drink
Melbourne, VIC
Fans of flavour and seafood feasts, listen up. Louisiana-style Crawfish sensation,…