SpitJack
CONTACT
58a Victoria Road
Northcote, 3070 VIC
Show on map
---
The Details
---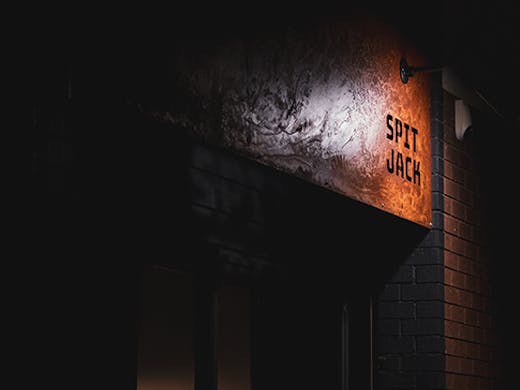 The Verdict
Spice up your life. Or, you know, just your bread. SpitJack has landed in Northcote and they're serving up house made sourdough flatbreads that bring the heat. Using a variety of ancient, fire-based cooking tools such as the South American Parilla grill, the French Flambadou and the Hot Brulee Iron, you can choose from a range of flatbreads topped with fresh and unique flavours.
The name is an ode to lowly workers and servant folk of the past, the Spitboys and Spitjacks who turned the spits at the great castle fires. Everything—except, ironically, the flatbread—is "licked by fire" thanks to Bertha, the affectionately-named, custom-made Parilla grill of SpitJack.
The flatbread is made fresh daily with a single origin biodynamic flour, milled by Rock Paper Flour in Mansfield. With a focus on quality local ingredients, everything is made or fermented in-house; the natural sourdough starter was homemade in Northcote by owner and chef Darren Collier.
Flatbread is unequivocally the star at SpitJack, not supporting cast. There's mustard glazed beef, chashu glazed pork with apple kimchi, and roasted butternut with vegan feta. Topped fries for days, delicious sides and intriguing desserts showcase the unconventional cooking methods on show; heirloom beef tomato flambadou, marrow butter flatbread, and hot iron burnt custard with earl grey prune and nutmeg biscuit come to mind. If you're feeling brave, try their signature Pickle Jack, SpitJack's version of the pickleback shot.
"We believe we are offering something pretty unique in Melbourne but still familiar. The food is casual and fun but still grounded with great techniques and flavours," Darren says. Arriving from the UK five years ago, Darren brings with him over 20 years' experience, including work with Michelin Chefs Adam Byatt and John Campbell.
The interiors by Flux create a luxurious yet urban environment. An enticing and fiery doorway opens into an industrial dining space complete with private booths and a rear dining room with its own cosy fire.
SpitJack's vegetarian and vegan friendly menu also boasts a Sunday Roast with specialty items only available on the first Sunday of every month. The combination of modern and centuries old cooking techniques, all in the name of delicious flatbread, will leave you feeling warm all over.
Image credit: supplied
---