St. Skin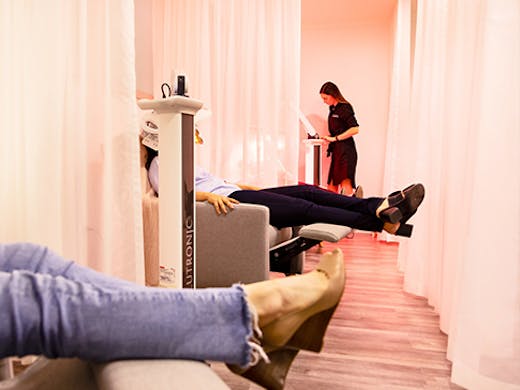 The Verdict
A beauty treatment on your lunch break? Yep, that's a thing now in the CBD, thanks to new skincare clinic St. Skin, which just popped up on Flinders Lane.
St. Skin is the brainchild of dermal clinicians Maryan Al Talebi & Leelah Linke—a soft and stylish urban retreat, just down from Elizabeth St. The idea was to create somewhere comfortable, quick and friendly, where people could pop-in for an express treatment, then head back to work.
...and to that end...
St. Skin has opened up Melbourne's very first express LED lounge. This is a clinically-proven skincare treatment that uses Healite II technology to soothe and heal damaged skin in as little as nine minutes. LED has been pretty effective overseas in the treatment of acne, aging, sun-damage and other skin conditions. Just head up to the mezzanine lounge, prep your face with a hot towel and some essential oils, then settle back in a custom-built recliner. No pain, all gain.
LED is just one of the services you can get at St. Skin. The girls have got over 20 years' combined experience in the skincare industry, and they're offering treatments for anything from acne and dermatitis to eczema and psoriasis.
St. Skin also stocks a range of boutique skincare brands if you're looking to switch up your routine. You can grab them through the online store, or chat to the girls at the salon.
So you want to take charge of your skin? Easy. The first step is a consultation with the dermal clinician at St. Skin (they'll even throw in a pot of green tea and some dark chocolate—gotta love those antioxidants).
Any skincare salon that offers free chocolate gets two very enthusiastic thumbs up. Well played, St. Skin.
Image credit: St Skin
---