The Store Of Requirement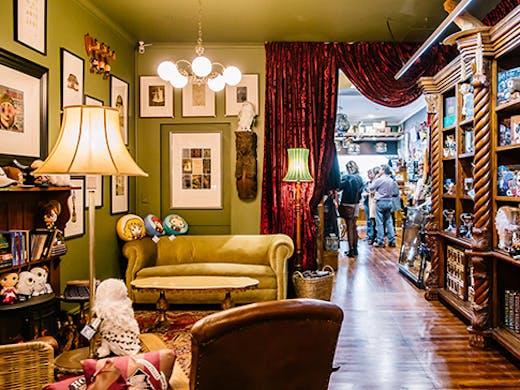 The Verdict
We'll try not to geek out too hard with this one, but it won't be easy. The Store Of Requirement lends itself to multiple exclamation marks, obscure Harry Potter puns and dressing in wizards robes like nobody's watching.
Yep, Melbourne's first wizarding store has officially been alohomora'd.
First impressions? Pretty bloody cool. As hardcore HP nerds (we can quote all eight movies backwards, forward, sideways and upways) we were interested to see just how kitschy The Store Of Requirement would go. Spoiler: they've gone all the way. And it's glorious.
There are Hogwarts' envelopes on the floor, and cages of Cornish pixies swinging from the ceiling. Several stuffed owls perch up high, keeping an eye on things ("They're our security team," says co-owner Sharon Hurley). There are wizard robes, chess sets, Hedwig toys, 'Hogwarts Alumni' jumpers (want) and several collector horcruxes.
"My favourite thing in the store is the shrunken heads," Sharon says, picking up some tiny, battery-powered Jamaican heads. "But Hermione's time-turner is easily our best seller. We struggle to keep up with demand."
The best part about this place is that it feels legit. The heritage building is easily over 100 years old (the Victorian crests on the wrought-iron awning look amazingly like Hogwarts insignias). And yes, it's technically a novelty gift shop—but it doesn't feel like one of those awful airport tat-vendors. The back room, with its squishy leather armchairs and crackling faux fire, feels more like the Gryffindor common room.
One more thing you have to try here: Butter Brew (note the spelling, Warner Bros). This is Sharon's own recipe, brewed by the guys at Craft & Co just up the road. No-one else gets this stuff—it's made in kegs specifically for The Store Of Requirement. Tastes like butterscotch, happiness and tooth decay.
The Smith St location is a happy accident. Sharon didn't even know what Smith St was (she's from Brisbane). "My daughter and I flew to Melbourne for the first time and just started walking around, seeing what felt right," she says. "I saw this one and signed a lease. I think we just got lucky! Apparently Collingwood is quite cool?"
Harry Potter fans, get down here pronto. It'll be open Weds – Fri (12pm – 7pm) and weekends (10am – 5pm) to start with. Sharon says she'll suss out demand and see what happens next.
We solemnly swear we're excited as f*ck.
Image credit: Helena La Petite
---