Storyville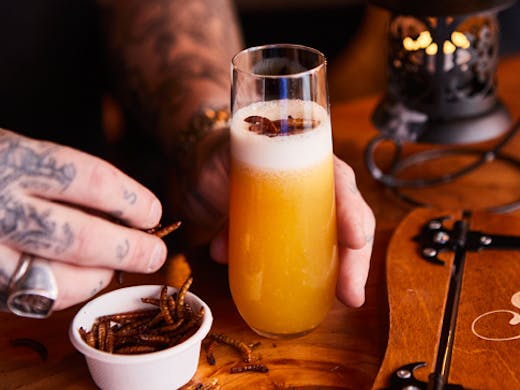 The Verdict
Once upon a time...
Those words are writ large outside the entrance to Storyville, the city's new fairy-tale themed bar. Tucked down an alley off Lonsdale St, it's actually the site of the old Wah Wah Lounge (oh how the memories come flooding back...), but even newbies will be able to spot the front door: surrounded by illustrated satyrs skulling wine, and a choice quote from Hunter S. Thompson.
...the fire-twirling nymphs out front are also a dead giveaway.
Up the dark, rickety stairs, you emerge through the tangled trunk of an enourmous fig tree. The old Wah Wah skeleton is there—the exposed brick, high ceilings, those big windows onto Lonsdale St—but that's about all that's left.
Storyville's fit-out is hardcore fairy tale wonderland. We're talking huge, glowing toadstools sprouting from the walls, a golden birdcage, 14-ft high, enclosing one of the lounge areas, hand-cut timber tables and bar stools. It's half bedtime story, half Thompson-esque acid trip. The sort of place Rumpelstiltskin or Snow White would do tequila shots after a long day at the office.
Storyville is the brainchild of Steve and Keti Thomas, the team behind Pawn & Co and 29th Apartment. And, looking around, you'd have to say this is their most ambitious venture yet. The pair enlisted the help of designer Josh Lefers (Pawn & Co, East 9th Brewing), who pretty much pillaged his favourite childhood tales for inspo. Example? The Narnia-inspired lounge, complete with roaring fireplace and novelty library.
Storyville has a (frankly) epic 5am licence, and the crew are equipped to keep the party pumping all night. There's a DJ booth in the corner, and a cutting-edge cocktail list, courtesy of head bartender Adam Bothwell (Tipping The Scales). Think literary concoctions like the New York Peach (a Roald Dhal spin, spiked with cognac, Kirsch, peach liquor and topped with edible worms) or the DIY Polyjuice (a build-it-yourself potion, made from gin, ginger liqueur, kiwi, basil and lime).
Ultimately, the Thompson quote out front sums it up best: "Buy the ticket, take the ride." Melbourne, welcome to Storyville.
Image credit: Michelle Jarni
---