Straight Six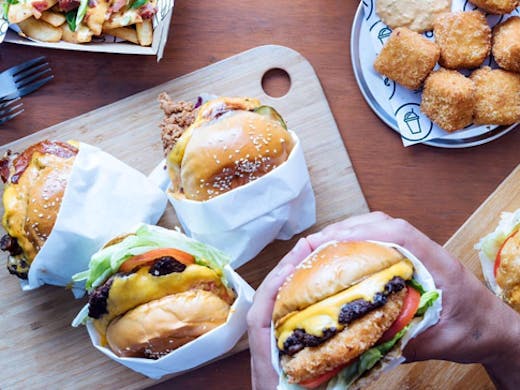 The Verdict
Sitting a stone's throw from Flemington Racecourse, this horse-inspired burger bar is SPOT ON for a post-run refuel, and it's neon pink interior is a stark contrast to its noodle legend of a neighbour, Laksa King (who still holds the title of best laksa in Melbourne, fifteen years after opening).
The racing theme runs strongly throughout Straight Six, with tables designed like jockey silks, staff listed as Stewards and awesome horse-y burgers like "Whykikamoocow" (a vego burger, named after the racehorse with the best moniker EVER).
You'll want to get in on the flavourful Might and Power Burger, featuring a 120g meat patty and mac 'n' cheese katsu patty in one perfect stack. Otherwise, Straight Six has plenty of other beefy beauties to 'meat' your expectations. Race you there! Actually, nah, we're staying put 'cause they've got Uber Eats.
Image credit: Straight Six
---