Street Talk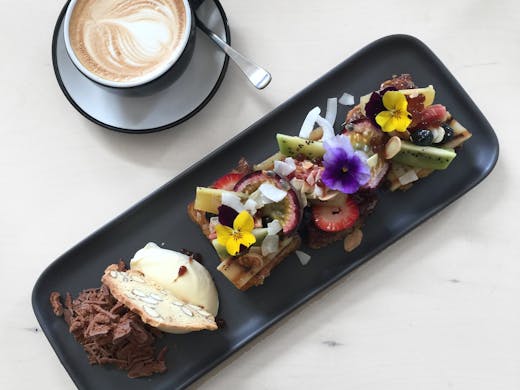 The Verdict
Tucked away in an unassuming shopfront in Armadale, Street Talk cafe is busting out some of the best brunch offerings the south east. The light-filled renovated front room is the perfect place for a coffee as you look out onto the bustling High Street, or pop out the back to the sun filled courtyard for a more substantial feed.
Dean Fourtzis is in the kitchen here—and he's quietly experimental, judging from some of his amusingly-named creations. When we popped in, we couldn't go past The Boss Of All Challah—a twist on French toast, using the Jewish braided bread of the same name. Paired with stewed apple, winter berries, the creamiest mascarpone you've ever tasted, and the one-two punch of Tim Tam sand and espresso caviar to top it off, it was a brunch-lovers dream.
If you're after something on the savoury front, The Godfather Of Eggs delivers chilli & herb scrambled eggs accompanied by 12 hour braised lamb (drool emoji), and is served with a zingy fresh feta, rocket & mint salad. It's the perfect bridging dish between brekkie and lunch.
There are plenty more options to get your mouth watering—a roast pumpkin smash with charred haloumi and beurre noisette is on the list for our next visit. Looks like Street Talk is about to get Melbourne talking...
Image credit: Bianca O'Neill
---