Studio 3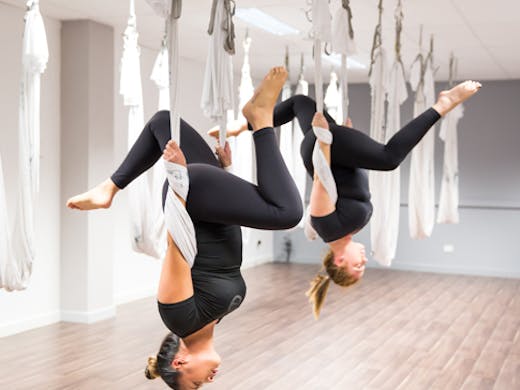 The Verdict
Situated in Moonee Ponds, Studio 3 has combined everything about fitness that we love to create the ultimate fitness-meets-zen mecca.
I don't know about you, but I always struggle to find a studio that has ALL the classes that I want - so I was tickled pink when I discovered that Studio 3 offers various forms of barre, yoga, and pilates. That's fifteen different options in total, with around 100 classes each week, lead by 25 stellar instructors that'll have you limber, strong and fit in a blink of on eye.... Okay, maybe more than a blink, but they'll help you get there in an enjoyable, fun and relaxed way.
Home to one of three aerial yoga studios in Melbourne, we were more than a touch excited to give the new trend a go – it's like swings for big kids, right?! Well..... sort of. Except that our instructor had us doing some pretty epic core strength exercices, and was a whizz at correcting our technique.
I was a little nervous about jumping onto a bit of material slung from the roof, (Christmas was a bit TOO kind), but I was assured that they have a 600kg weight limit – I was safe!
If swinging and stretching upside down isn't quite your thang, fear not, there's a full gamut of pilates reformer options; power cardio, pre-natal, stretch and release, progressive, and basic.
Studio 3 is also home to a a glorious detox box. An infrared sauna which burns around 600 - 700 calories in a half an hour session, detoxes the skin, decreased inflammation and increases circulation, it really is a magical box that we're fast becoming addicted to.
As another added bonus, if you've got a bit of niggling problem that needs to be straightened out or you just want to check in with a specialist, you'll find a physiotherapist, a myotherapist, a dry needling and acupuncture specialist and a life coach all in a part-time clinic upstairs!
The facilities at Studio 3 are top-notch. Think locker facilities, big clean bathrooms and change facilities with all the bells and whistles, and a cute little café at the front. The best bit? The staff are all smiles – it's the sort of exercise studio where you actually want to hang out.
Plus, booking is a cinch; you can easily nab yourself a spot in a class via Studio 3's App, website or calling direct. If you just want to test the waters to see if it's for you, there's an intro offer of $50 for five sessions - and if you're anything like us you'll be hooked before your five are up.
Image credit: Jenna Fahey White for The Urban List
---