Studio Pilates | Richmond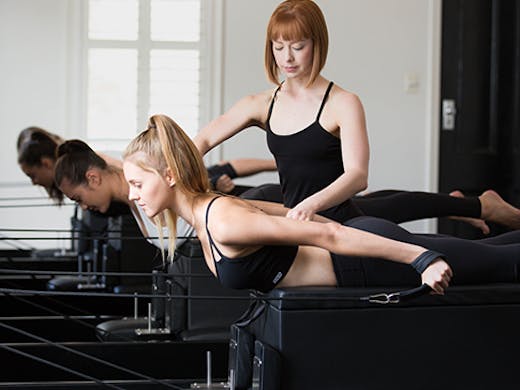 The Verdict
If you've never done reformer pilates, it probably looks a lot like a bunch of ridiculous active-wear people stretching their legs across a moving torture platform. Is it just one of those ridiculous fitness trends that don't do actually do much?
Nope. Not even close. If you've actually done reformer, you know how hard these classes can be.
Reformer pilates is kind of the perfect exercise—it's low impact, so you can do a class and hop back to work without being red-faced for the next couple of hours. It works every (and boy, do we mean every) muscle in your body. You don't have to twist yourself into weird positions on a dirty mat. And it tones—as in, you won't just feel better and healthier, but you'll have Insta-model calves after.
Lucky for all of us, the guys at Studio Pilates has just opened a new studio up in Richmond. With a swish location on Bridge Rd, and convenient 40-minute classes and early morning, lunchtime and evening sessions, this studio is perfect for anyone wanting to give reformer a crack.
Studio Pilates is all about feeling good as well as looking good, and they want their gym to be a happy place—not the type of gym that makes you want to hit the snooze button, curl up and cry under your doona.
You can join on a casual class rate, 10, 25 or 50 workout packs, or jump on board with their special starter pack deal for an uber-cheap taste of pilates. Haley, the studio owner, is lovely too. They've got a good crew running the show.
So if you're looking for something to give you those long, lean muscles (and kick the winter blues) check these guys out in Richmond. Warning: reformer is pretty freakin' addictive.
Image credit: Studio Pilates
---