Sun Theatre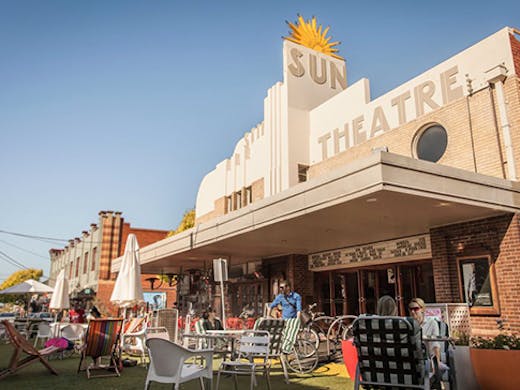 Yarraville's Sun Theatre originally opened back in 1938 with a single screen and 1050 seats, but it's come a long way since then. This boutique, art deco gem now boasts eight individual cinemas, with sizes ranging from 200 seats down to 23 couches. It's easily the best cinema in Melbourne's west.
The cinemas within the Sun Theatre are all named after closed-down cinemas in Melbourne, particularly those around Yarraville and the Western suburbs. But it's the art deco architecture, friendly vibes and excellent movies that keep people coming back for more.
One of the most popular features of the original cinema was the club-style seating, and the owners have kept ost of that in-tact, sourcing seats from all over the country and lovingly restoring the originals.
The exterior, including the Sun neon sign (which has become an iconic landmark in Yarraville), has also been preserved, along with the entry doors, foyer terrazzo and the ticket box.
An important thing to note is that these guys are fully licensed inside the cinemas, so you can enjoy a bev while you watch. Not many places left in Melbourne where you can do that.
These guys show an impressive range of films, from new releases to cult classics (they're also one of the few places in town that screens in 70mm). Keep your eye out for film festivals, movie marathons and special events—there's always something interesting on the calendar.
Exhibit A: to celebrate next year's 50th anniversary, The Sun is presenting the Moon Film Festival from the 16 – 24 July, the same nine days that Apollo XI embarked on her audacious mission. Opening night will feature a 70mm presentation of The Right Stuff (1983) and the program is stuffed full of sci-fi space classics.
If you want some vino with your movie, The Sun also has a pretty decent wine cellar. You can grab Piccolos (187ml), Half Bottles (375ml) and Standard 750ml bottles, and there are even little tables to park your glass in the cinema.
What The Astor is to the east, this one is to the west. Well worth a trip across the Westgate, if you ask us.
Image credit: The Lowdown Under
---