Sunlighten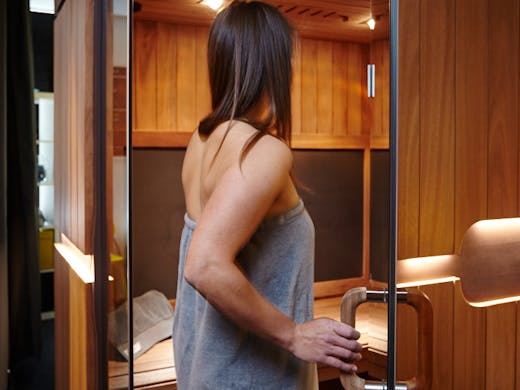 The Verdict
When it comes to treating ourselves, we're *all* about spending some quality time taking advantage of Melbourne's best wellness treatments, and right at the top of our list is Sunlighten in South Melbourne. Sunlighten specialises in infrared saunas, the latest wellness trend that uses heat to unwind those stiff muscles, detox your body after a weekend's indulgences, and generally boost your relaxation levels, leaving you feeling rejuvenated in under an hour.
Sunlighten infrared saunas come in two types: Super-stylish private cabins that can fit up to 3 people, sitting upright, and lie-down sauna beds that basically feel like being wrapped up in the best electric blanket ever.
The technology used in each is the same: Sunlighten's saunas are entirely steam-free, instead using safe infrared technology that heats the body's core, rather than simply making you sweat on the surface. Because there's no moisture in the sauna, you can bring your iPad or phone in with you for an Instagram catch-up, and you don't leave feeling sweaty, dehydrated and gross. With towels, showers and skincare products provided for those who do feel like a freshen up, it's the most luxurious sauna in Melbourne for a session of blissful heat therapy.
As well as making you feel amazing, Sunlighten saunas use a variety of infrared waves to target six different wellness areas with specific benefits. If you've been hitting the sugar and alcohol heavily, the detox program helps your body to process and sweat out toxins. For muscle unwinding, the relaxation and pain relief programs both hit the spot. If fitness is your bag, or if you're in need of some circulatory help (which, let's face it, we all do during the cold winter months), a cardiovascular sauna session will give you a boost. And, if you're looking to rejuvenate skin and muscle cells, or want to shed a few pounds, the anti-aging and weight loss sauna cycles are the perfect addition to your routine.
The Sunlighten Melbourne sauna centre also has one of the city's only AirPods—a Japanese oxygen pod that visitors lie in while breathing the purest oxygen-boosted air around—which is great for muscle recovery and stress relief. If you're keen to try both in one wellness double whammy, opt for the Effortless Wellness package and we can guarantee you'll walk away feeling like a new person!
So, how can you lock in a session at Sunlighten? This South Melbourne sauna experience is open 7 days a week and, with prices starting from only $40 per session, it's one of the most affordable wellness treats in the three thousands. Whether you're game for some midweek relaxation (lunchtime detox, anyone?), a weekend pampering session, a solo sauna mission, or a detox with some friends, this one definitely needs to be on your wellness to-do list.
> Book a session and bring a friend for free, until the end of September! All you have to do is mention The Urban List when booking.
> Book online or call 03 9696 4602 for available session times
Image credit: Michelle Jarni for The Urban List
---