Sushi Boto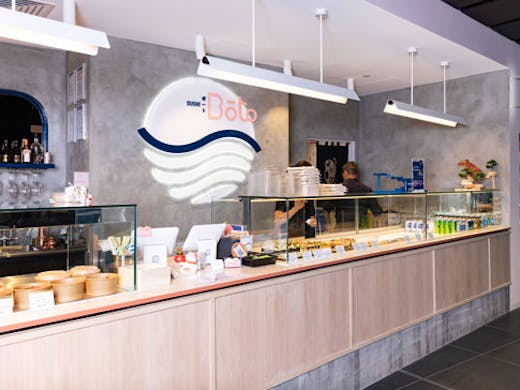 The Verdict
Sushi Boto is an adorable sushi train with a difference.
These guys specialise is an ever-changing menu that exemplifies the highest quality seasonal produce that is brought in daily from the market. The most noticeable feature of Sushi Boto is its immaculately designed sushi 'train' (more on that later); interspersed between Maneki-neko (lucky cats) and dainty flower arrangements. Here, the dining experience is as much a pleasure for the eyes as it is for the taste buds.
Also, in true Japanese fashion, Sushi Boto is decorated with various kitschy elements like the arcade style claw-machines. If you're lucky enough you can score a tiny sushi or ramen keychain, Gudetama collectables and maybe even a paper crane.
So, Sushi Boto is not your regular sushi train; in fact, there are no trains here at all. Where a regular train conveyor belt might sit, is a literal water stream that gently carries a trail of sushi boats. On the boats, sit an array of fresh handcrafted sushi made by talented chefs who between them, have decades of experience.
We talked to Ben Luo, the owner, who you might also know from Melbourne favourites White Mojo and Hash Speciality coffee. The concept behind the boats was the notion of freshness, and the idea of catching fish from the ocean, preparing it and having it loaded right to you at your table. Our top picks were the salmon sashimi and the crispy chicken karaage.
The Sushi Boto 'train' offers a range of fresh sashimi, nigiri, rolls and meat dishes. We also checked out the à-la-carte menu which goes all the way with its flavours. If you've got company, we recommend the Sushi Step selection that includes ten uniquely crafted dishes that increase in flavour as you go along. Sushi Boto designed this meal to be eaten in ascending order. You start with the mellow flavours of New Zealand scampi and eventually progress to the final dish that is the decadent and buttery Foie Gras Don.
Another standout dish that you have to try is the Tuna Rack, a half rack of dry aged tuna served with seaweed and rice - this is a DIY sushi situation for those of who you like to play with your food. We were also amazed by the Avo tempura, which is as crazy and delicious as you might this. Now if this isn't crazy enough for you, Sushi Boto has another trick up their sleeve - Vegemite soya sauce. Because why not, right?
Image credit: Mel Desa
---