Susie Wong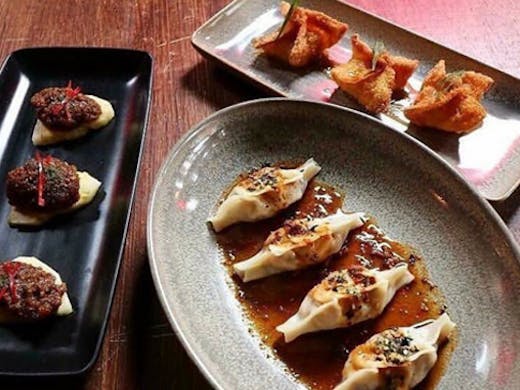 The verdict
You'll find Susie Wong at the tippy top of Chapel St in Windsor. Right before the suburb drops off the map and becomes St Kilda East.
Co-owner Peter Capurso has always been pretty big on interior design (he got his start as a chef before pendant lights and exposed brick caught his eye). And that explains the aesthetic in here: it's pure Windsor sex. The perfect spot for a late-night cocktail or special dinner with your SO.
Speaking of booze, Peter and Exec Chef Jerry Mai (Annam, Pho Nom) put together a savvy little wine list, well-sourced from France and Italy. Some nice dry white that go bananas alongside a plate of roast duck steam bao buns or the Ma Hor chilli pork on pineapple (it's finger-lickin' good).
The menu is what you'd expect from this part of town—very reasonably priced, a lot of shared plates, the sort of stuff that makes your fingers sticky and your soul happy. Our personal picks are the Sichuan salt n' pepper squid and Burmese style lamb.
Although the menu is classic Melbourne share-feast, there aren't any naff community tables where you're bumping shoulders with random couples. Grab a seat up at the bar, or snag a bistro table all to yourself.
One last tip? Save room for dessert. Peter's signature Chocolate Cardamon Fondant with vanilla-flecked ice-cream is pretty out of control.
Thanks for dinner, Susie. You do all right.
Image credit: Susie Wong
---
You May Also Like
Food & Drink
Melbourne, VIC
Fans of flavour and seafood feasts, listen up. Louisiana-style Crawfish sensation,…