Tahina | Fitzroy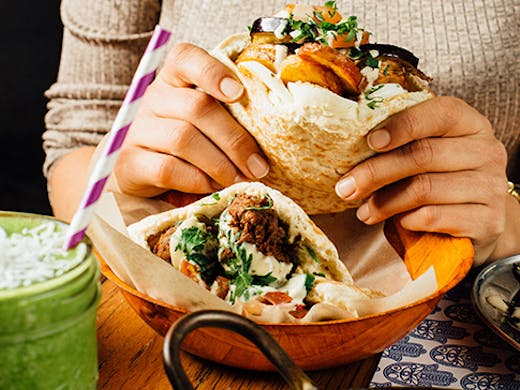 The Verdict
There are a lot of good reasons to live in Northcote, but number one with a bullet is Tahina—an Israeli street food restaurant run by Natalie Powell and Tel Aviv-born chef Ray Sassonkin.
Well now Tahina has opened a second restaurant, this time on Brunswick St in Fitzroy. And we're here to report it's lost nothing in the translation.
"Growing up in Tel Aviv, my childhood was all about family and dining in casual restaurants and eating healthy, fresh food with family and friends." Roy says. "We're trying to redefine the casual dining on Brunswick Street to include some healthy Middle Eastern options to go along with that late night greasy kebab."
Tahina is doing the late night, not so much the greasy. These guys specialise in a few things: falafel pita pockets, traditional Shakshuka baked eggs, vegan tahini and some absolutely killer smoothies.
First things first: the falafel. We've eaten our share of chickpea over the years, and we can honestly say this is some of the best in Melbourne. Perhaps the universe. The pita pockets come out stuffed to the brim with green or red falafel, house-made hummus, pickled cabbage, lashings of tahini and Israeli salad. They're just lip-smackingly good.
If you want something a little more substantial, a big metal tray of Shakshuka with wild mushrooms, fennel, Jerusalem artichokes and chilli should set you right. All the baked eggs come with fresh salad, tahini and pita bread.
Last tip? You've gotta try the smoothies. A lot of cafes and restaurants are trying this now—blending up god knows what and adding the word organic. But Tahina's Salted Caramel smoothie with banana, Medjool dates, coconut nectar and almond milk is effing amazing. There's also a range of organic colas and kombucha if you want something out of a bottle (don't even think about it—order the smoothies).
If you can't tell, we're mildly excited about this one. Brunswick St doesn't lack for much, but this is definitely filling a falafel-shaped gap in the market. We'll see you in the fairy-light courtyard out back, yeah?
Image credit: Annika Kafcaloudis
---
You May Also Like