Taliana Pizzeria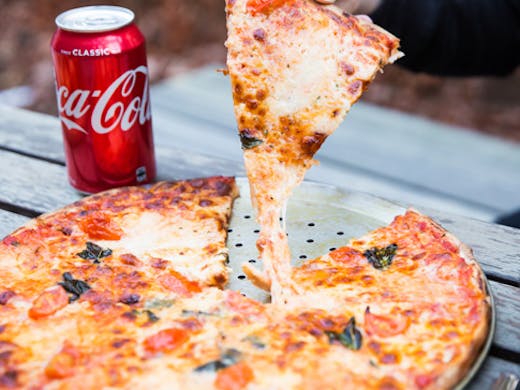 The Verdict
Melbourne hipsterisation often comes with collateral damage. Case in point: it's actually kind of hard now to find pizza in the inner 'burbs that ISN'T cooked in a woodfire oven...on a thin base...scattered with precisely three pitted olives and an artful basil leaf.
Seriously, where's the pizza of our childhood? You know, the fun stuff. The generous toppings, the thick yet crusty bases, the excessive cheese and the wagon wheel-sized servings.
If you're craving a bit of old-school, Friday night-style pizza, Taliana Pizza has you covered. Originally this place popped up in Collingwood, but they've recently moved the operation to Preston (fast becoming our new favourite Melbourne suburb). Seriously, this place is serving up some of the best 90s-style Melbourne pizza going around.
The man behind the machine is pizza chef Tim Papadatos, an expert who's owned Melbourne pizza joints since the early 80s (you may know him from Gemma on Elgin St, formerly The Red Rock Cafe). Tim's been perfecting his tomato base and his pizza dough for decades. We weren't told what the secret ingredients were, but later experiments confirmed they were bloody delicious... His daughter, the wonderful Denise, runs the front of house.
So, the pizza. Whatever culinary sorcery Tim uses in the kitchen, it pays off big time. The base is pillowy, with a satisfying crunch, a little chunkier than the modern thin-crust style. The toppings are bighearted, but not OTT. Think no-fuss combos like cheese, hot salami, olives, capsicum, tomatoes and basil. Personally we're going back for more of the Chorizo: a delicious blend of crispy-grilled Spanish sausage, tomato, cheese and Bocconcini. The menu is massive (this is an old-school pizza place, remember) but Preston locals will probably work their way through the whole thing, given time. This isn't fancy pizza, by any means. It's good pizza. And if push comes to shove at 7pm on a Friday night, we know what we're dialling...
Image credit: Jenna Fahey-White
---