Tartine
CONTACT
Ph: 03) 9428 3339
Visit Website
105 Swan Street
Richmond, 3121 VIC
Show on map
---
The Details
Cuisine
Need to Know
Serving
Coffee
Breakfast
Lunch
Dinner
Dessert
---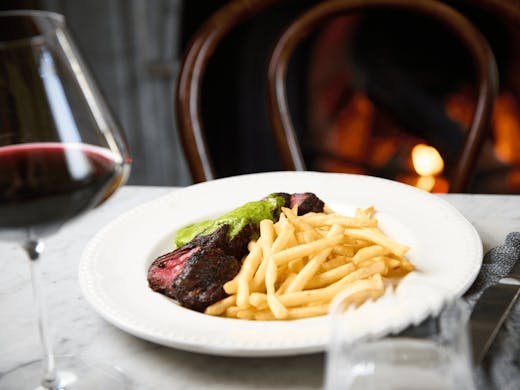 The Verdict
A sultry blend of French and Mediterranean cuisine is coming to Melbourne with the opening of the new restaurant and bistro, Tartine. The new diner is taking over the former space of Meatball And Wine Co on Swan Street Richmond. The creation of self-admitted Francophile and illustrious head chef, Andrew Beddoes, in collaboration with Matteo Bruno, owner of The Meatball & Wine Bar. "The concept for Tartine has been long in the making...I look forward to sharing my love of Tartine and 'all things French' with Melbourne," says Beddoes.
From a takeaway coffee window in the mornings to an extensive natural wine list in the evenings, there are plenty of options for you to pick and choose from depending on what time you drop by. There's a crackling fireplace to cosy up to on date nights and the marbled tabletops and the milky-white crockery evocative of provincial France. For special occasions, there's 'Salon Tartine', a private dining room as an option for those wishing to indulge in a more unique experience or to simply treat themselves and their loved ones.
An all-day venue, Tartine has much more than simple sandwiches on offer. The sourdough bread is sourced from an artisanal bread-maker and developed specifically for the restaurant, and is made of organic spelt and stone ground flour. Served with sophisticated toppings such as prosciutto and celeriac remoulade or pear with Roquefort, a sheep's milk cheese from Southern France, each bite is laden with fresh produce and curated with care.
Their menu ranges from standard French classics, such as Steak Frites smothered with Montpellier butter, to a more new-age fusion, mixing in fan-favourite dishes with a French twist. There are hashbrowns topped with foie gras and truffle as a brunch option, as well as scallop tartare, cucumber and caviar. For cheese-fanatics, there's also a full cheese service to satisfy all fromagerie cravings
Tartine is set to open on Friday 26 August on Swan Street, Richmond, find out more here.
Image credit: Tartine (supplied)
---