Teller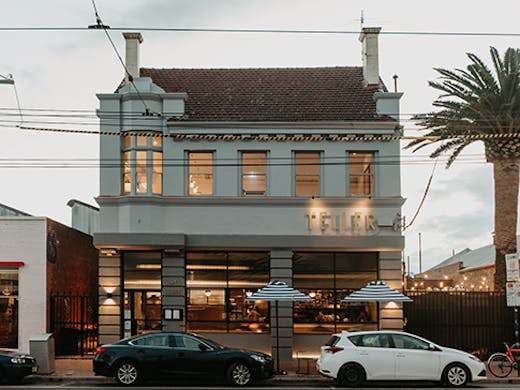 The Verdict
Housed in the former State Savings Bank of Victoria which dates back to 1918, Teller, on Lygon Street in Brunswick East has been beautifully transformed into a sleek new all-day bar and dining spot. This stunning old building with plenty of history has been fitted with an upstairs function room, an airy beer garden, an open-design dining layout and a seriously impressive bar stocking 11 independently brewed beers on tap.
The menu is an elevation of pub food, infused with a Mediterranean twist. It covers all sorts of dining, from casual brunches and lunches to more elevated, atmospheric dinners. Highlights include a classic fish and chips, with pickled fennel—decadent truffle-gnocchi served with parmesan creme, and for the dessert people out there, a goat's cheesecake paired with thyme, rhubarb and honey. The Teller wine list is extensive, and they even include bank-themed cocktails which tie into the locale's lineage.
After a 27 month long renovation, the building itself has been resurrected to its former glory. Outside, wooden benches line long tables ideal for sharing over. Fairy lights hang overhead, offering a casual, cosy effect. The inside of the building has a distinctly modern feel to it, with dramatic concrete walls and dark brown wooden tables to offset the grey. During the day, skylights turn this space into a light-filled, airy environment but at night, cool tones shift this restaurant into something more moody and intimate.
Whether you're a local to the area or just stopping by, Teller does a service to the momentous building it resides in by providing plenty of food drinks in a stunning versatile space to suit every facet of its local community.
Image credit: Kate Shanasy
---