That Burger Joint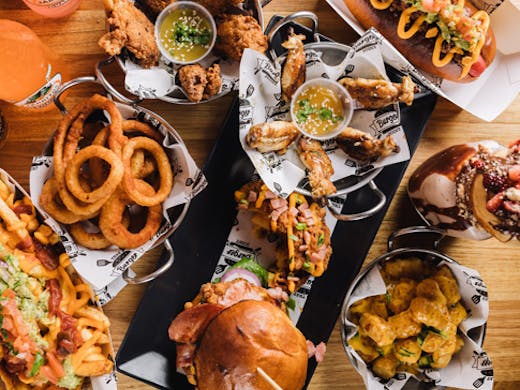 The Verdict
It's the one burger store in Melbourne where you can walk up to the counter, order a BJ, and not get slapped. Welcome to That Burger Joint, a politically incorrect St Kilda burger bar that's been pumping since 2015.
These burgers are not the modest, single-patty-is-enough-for-me-thanks type. They're more the type you eat with both hands while three different sauces run down your arms and passers-by look on in alarm. We're talking cheesy hulks like the 'Fat Yank'—two 150gm Wagyu beef patties topped with double American cheese, pickles, American mustard and ketchup, wrapped in a Japanese milk bun.
Unlike a lot of burger places, That Burger Joint are pretty up-front about pimping your stack. They've built it right into the menu. You can get an extra Wagyu patty and cheese for $3.50, extra sauce for 50c or (brace yourself) and extra fried chicken patty.
This allows you to create all sorts of zany farmyard combos, like taking a 'Southern Hillbilly' (Crispy fried chicken, coz lettuce, tomato, onion, melted cheese and sweet chilli mayo) then whacking on a Wagyu patty, because gourmet.
Ribs and loaded hot dogs complete the picture, with a solid range of sides to round out the menu (the hint of rosemary on the house fries is a nice touch). If you want to go crazy though, order up a serve of the bacon mac n' cheese doughnut: a ring of oozy mac n' cheese, crumbed and deep fried, then topped with melted cheese and bacon pieces.
Somewhere your mother is judging you.
Image credit: Griffin Simm
---
You May Also Like