The Altar Electric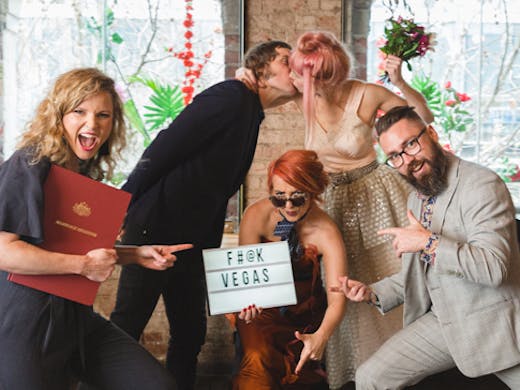 The Verdict
Any small business whose motto is "F*ck Vegas" is one we want to learn more about.
The Altar Electric is a new concept in Melbourne: Vegas-style registry weddings that actually rock. Something smaller (and cheaper) than a traditional ceremony, but less boring than just going down to Town Hall and signing a few papers.
"The average cost of an Australian wedding is $30,000' says Anthony Cribbes, one of the co-founders, "more and more we are seeing couples who don't want a big shindig, but they're also not after a ceremony performed by a public servant at the registry office."
The Altar Electric is setting up shop in iconic laneway bar Ferdydurke, with plans to expand into other bars throughout the city over the coming months.
Now, things are a little different in Melbourne. This isn't Vegas: you can't just liquor up with a bottle of tequila and go and get hitched. The Altar requires you to lodge a Notice Of Intended Marriage at least a month out from the service. Once you've done that, you can pick your tunes, book in a photographer, and send The Altar a few details about yourself. They'll tailor the service to match.
The ceremonies themselves are short and sweet. Cribbes and co-founders Dee Brinsmead and Sarah Dobson are all registered celebrants, and should get you married in under 30 minutes flat.
Little weddings that rock. That's what these guys are all about. And with the latest ABS statistics indicating 75% of modern Aussie weddings are conducted OUTSIDE a church, they could be onto a winner. The company are currently taking bookings for September through December.
Remember: what happens in Melbourne, stays in Melbourne.
Image credit: The Altar Electric
---
You May Also Like