The Bespoke Corner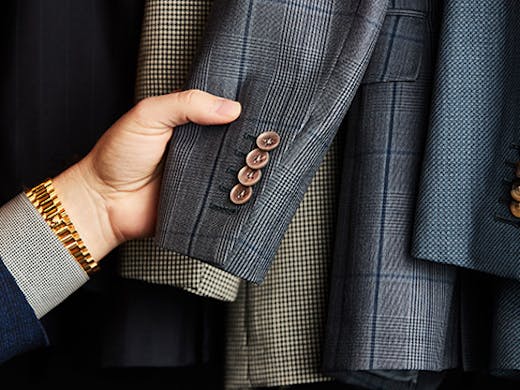 The Verdict
It's hard not to get excited about suits when you're chatting to Miles Wharton. He's the kind of guy that makes James Bond look underdressed.
Miles owns The Bespoke Corner, a Sydney tailoring store that's become a low-key international sensation (they were the first tailors to collab with Rolls Royce). For a while now, you could only find The Bespoke Corner in Paddington, but Miles and his co-founder Rami Mikhael have just opened their new boutique on Toorak Rd in South Yarra.
In a nutshell, it's probably Melbourne's best suit shop.
Everything in here is Bespoke (hence the name). And Miles says it's that attention to detail that sets them apart from the other guys.
"If you had to look for a comparison in Melbourne, it'd be Double Monk," he says. "We're at that level. People come in here and they often don't know what they're looking for. We sit them down and get to know them, then assess their options."
'Sitting down' in this case means taking a seat on one of the beautiful grey sofas and flipping through fabric swatches while drinking 17 year-old single malt Balvenie scotch. Miles says a lot of guys hate shopping, but that's only because no-one's taken the time to ask them what they like.
"We'll try and get a feel for their personality," Miles says. "Are they loud and outgoing? Or do they just want to blend in to the crowd?"
The nice thing about The Bespoke Corner (apart from Miles being a dead-set legend) is that it's not obscenely expensive. Oh sure, you can drop $10,000 on the finest Tuscan silk if you want, but the guys have deliberately structured the selection to fit almost any budget. Chinese-made suits start at $1000, or you can get handmade Italian pieces for $3000 and up.
You can also grab a range of ties, cufflinks and other sartorial paraphernalia.
It's rare to find a high-end suit boutique that doesn't make you feel like gutter scum. The Bespoke Corner feels more like a Saville Row gentleman's tailor. Doesn't matter if you know ZERO about suits—they'll get you walking out of there feeling (and looking) a million bucks.
Image credit: The Bespoke Corner
---