The Blow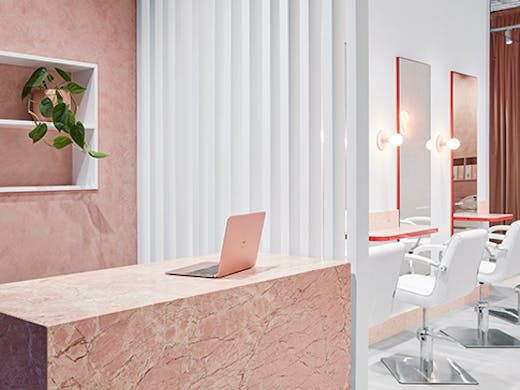 The Verdict
Introducing The Blow, Melbourne's new premium blow dry boutique in Little Collins. The Blow is the brainchild of Phoebe Simmonds, who is one impressive woman. She's been in the beauty industry for over ten years, and there isn't much she doesn't know about applying heat to hair.
The Blow has a motto: 'Life isn't effortless but your hair can be'. Which is why The Blow runs 45-minute blow dry sessions you can fit into your working week. Phoebe wants people to start scheduling blow dries like they would any other appointment. She's all about efficiency and good hair.
So how exactly does it work? It's pretty simple. Book yourself in for a blow-dry, and 45 minutes late you leave feeling and looking fabulous.
You can choose from six signature styles: The Mane Event, Rich Girl Hair, Give It To Me Straight, Baby Got Beach, VaVaVoom, And The Step Up (you can read all about those here). If none of those fit quite right, The Blow can customise a treatment to suit you.
At the back of The Blow studio, you'll notice a neon red sign reading 'Good Hustle'. So what exactly is good hustle? Phoebe explains it best: "In this boutique, you are standing amongst women who have been awake since 5am, taken flights, presented in front of hundreds of people, donated time, broke a Fitbit record, made someone laugh, waxed brows, made deals, built websites, erected stages, fed babies, breathed into downward dogs, participated in excellent bumble banter, chucked back a champagne and conquered their day with great hair and an even better attitude. Welcome to the life of the good hustler."
As you'd expect, the fit-out is creative and sleek, and incredibly Instagramable. The Blow partnered with Collingwood architecture and interior design firm, Tecture, and they have nailed the brief.
There's red and pink accents representing the brand's hard and soft edges, and the space itself feels very different to your standard salon. Feminine and approachable was Phoebe's vision, "with a ton of depth and personality. We're not a hair salon, we're a brand and a lifestyle that represents a badass Australian woman".
Phoebe is committed to her local community, and this extends to their partnership with Share the Dignity, an Australian charity that gives sanitary products to homeless women, and fights for the safety and support of domestic violence victims. The Blow will donate $1 from every Blow Dry to Share the Dignity.
Image credit: The Blow
---