The Botanical Store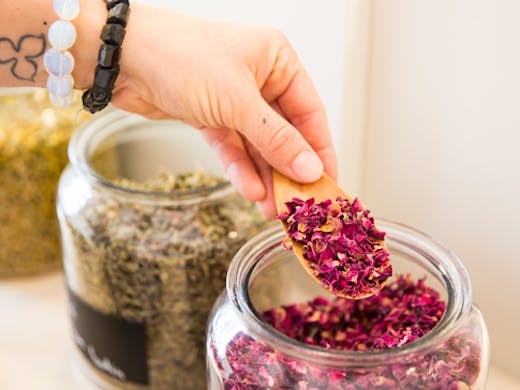 The Verdict
Kim Stark and Hannah Dupree wanted to do something different. Both had already established successful start-ups (Kim created Wheatbags Love and Hannah is the genius responsible for tea company Storm In A Teacup).
This time though, the pair wanted to create something more...experimental. A DIY blending bar, where people could come and mix their own skincare products from beautiful, all-natural ingredients. An experiential retail store that just happened to smell effing amazing.
Here's how The Botanical Store works. You walk in to the scents of lavender and bubbling tea (that'll be Hannah, brewing in the background). The staff will walk you through the various 'blending stations', recommending certain essential oils, body creams and detoxifying clay masks. You'll pick the scents and aromatherapy benefits you want, and the crew will help you blend it all together to create a bespoke skin-care regime.
Meanwhile, there's the tea tasting table to explore. Hannah is a bit of a tea nut, and has assembled a huge range of single origin teas and hand-blended tisanes. You can sample the selection, and even have a go at blending your own from the seasonal DIY dispensary.
The store fit-out is a picture perfect pastel wonderland, dotted with greenery, custom artwork and a mint green feature wall. Looks a little like a set from a Wes Anderson skincare commercial that never happened. Very chill vibes. It helps too when Kim and Hannah are lovely hosts, happy to walk ladies and gents through the basics of organic skincare and kick back with a home-brewed tisane.
If you're tired of generic skincare regimes, it might be time to try something a little more bespoke. Get ready to go botanical.
Image credit: Jenna Fahey-White
---