The Carringbush Hotel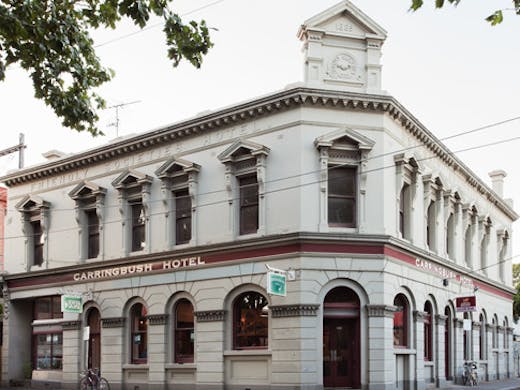 The Verdict
Abottsford just scored a crafty new hotspot, and it's looking very green—not literally, of course.
Boasting a classic pub vibe with a strong focus on sustainability, The Carringbush Hotel's meat-free menu is vegan and vegetarian. All wine is on tap, there's no packaged beer, it's stocked with eco-friendly reusable metal straws and ethical plates, it's decked with environmentally friendly lighting and heating...we could go on.
But don't let all that non-meat stuff scare you, carnivores. All dishes at The Carringbush Hotel are expertly created by Head Chef Roxanne Olsen and boy, are you in for a treat. Chef Olsen's current menu creations include the mouth-watering beer-battered cauliflower, an amazing sweet potato steak, as well as a delicious mango coconut tart. Seriously yum.
With an expertly curated wine list and over 21 beers on tap, former music journalist Tim Cashmere has done a stellar job as the pub's wine and spirits buyer. Ensuring that all local and international beverage beauties are showcased, they'll definitely be a beer or wine for everyone, no matter how obscure your palate may be.
You can wander into The Carringbush Hotel every day of the week from 11 am until late-ish.
Image credit: supplied
---