The Cookie Dough Co.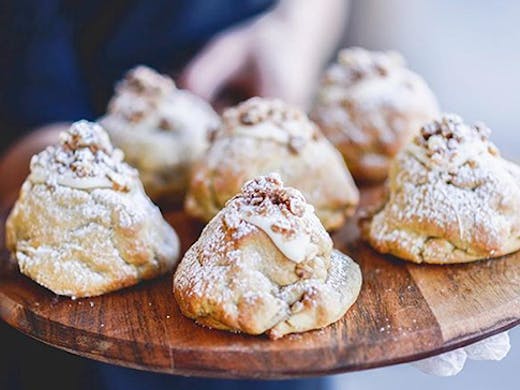 The Verdict
It's hard not to love cookies, but some love them so much that their passion for baking those sweet, round treats has turned into a full-time gig. Case and point, The Cookie Dough Co.
The Cookie Dough Co. began in 2019, before swiftly realising they'd nailed a winning formula for New York-style cookies in their kitchen. The hype caught on, and now they're selling at numbers well into the thousands.
On the menu, you'll find classics like choc mint and a (very) loaded caramel cookie, as well as the likes of a Caramilk white choc number, which as you can imagine—like anything with the word 'Caramilk' in it—is flying off the virtual shelves.
Outside of what the label says, there are also several over-the-top, but absolutely necessary, cookie cakes that's made from a mix of OG cookie dough, white chocolate and lotus biscuits. Weighing in at 3kg, this one's sure to cheer you up.
Should you prefer cookies, but just more of them, go for the cookie slab. 1.2kgs of cookie dough mixed Cadbury milk chocolate, Kinder Bueno and Nutella within an XL foil baking tray. Delicious.
Drop into their pop-up at 443 High Street in Northcote and collect your goods. Or, order online for Australia-wide delivery.
Image credit: The Cookie Dough Co. Instagram
---