The Corner Store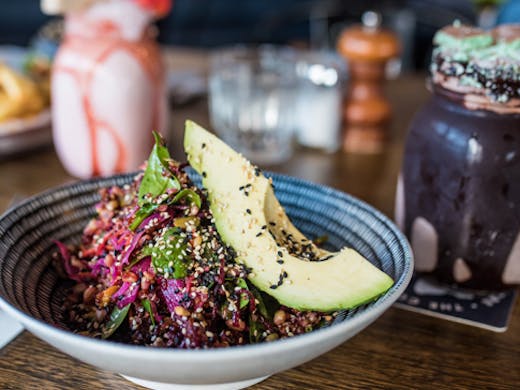 The Verdict
The Corner Store's tagline says it all: "Open from first latte to last drinks." It's a classic super hero venue: brunch by day, bar by night.
There's no bad time to enjoy The Corner Store, perched (rather appropriately) on the corner of Swanston St, just opposite the station, but we recommend a sunny Mentone morning. It goes great with a spread of maple-roasted granola or corn chilli fritters with sweet tomato and mustard seed relish. The house-baked beans are another highlight, spice and stodge and bloody delicious, served with baby spinach and creamy feta on sourdough.
The breakfast runs until 3pm, when the venue morphs into a classy long-lunch diner. Families and friends catching up over a pan-cooked saganaki or chicken salad sanga with steak-cut chips. The wine cellar comes well-stocked, and there's a few solid IPAs on tap. There's also some frankly ridiculous loaded shakes for the little ones (and, let's face it, a lot of the bigger ones). We recommend the Cherry Ripe or the Mint Aero if you're feeling especially sinful.
By night, the lights dim, and the crowd changes again. Not many venues can handle the transition from kid-friendly coffee klatch to swinging night spot, but The Corner's warm wood finishes and vintage charm go great at any hour. Bayside road trip, anyone?
Image credit: Jess Prince
---
You May Also Like