The Duke Rooftop Bar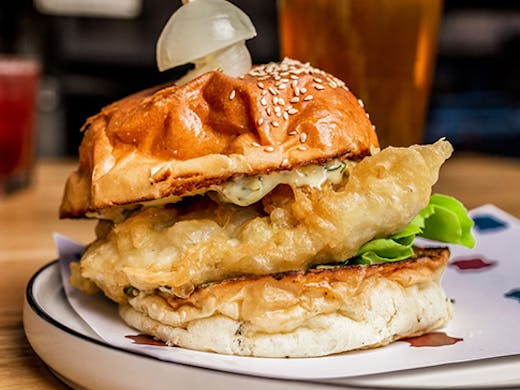 The Verdict
If there's one thing every city needs, it's more rooftop bars. We're looking forward to the day when every scrap of Melbourne's roof real estate serves craft beer and strong cocktails (we're also hoping they have slip n' slides and rope ladders between the buildings, but maybe it's a good thing we're not city planners...)
The Duke is doing its bit. The guys just unveiled a brand spanking new rooftop bar, named (you guessed it) The Duke Rooftop Bar.
The Duke has always treated its split levels differently. Downstairs is the front bar, which heaves on game days and pours pints like its going out of style. One level up and you've got suits eating steak and debating the merits of Yarra Valley pinot. The rooftop? That's gonna be something different. This is a space to relax, unwind, maybe finish up the night. Impress any visiting Sydney-folk.
The menu's had the starch removed too. You've got banging Flinders Street Double Cheeseburgers (our go-to), Shepherd's Pie nibblers with HP ketchup, and Lygon St Lasagne Croquettes with garlic breadcrumb. Nothing fancy, but good solid 11pm food.
If you want something fresher, there's also roast beetroot salad with goat's cheese and raw salmon bowls with edamame and kimchi.
The beers keep things pretty close to the chest (six taps featuring the likes of Furphy, Little Creatures IPA and Hawthorn Pale), but the wine list bats deep. A little Clare Valley Riesling, King Valley Moscato or well-travelled bottles from France.
The cocktail list is also a winner—for winter, we're partial to the Fireside (Grey Goose vodka muddled with maple syrup, grapefruit juice, salt and rosemary). It's also an Arctic Monkeys song, but that's just by the by.
If you ever need us on a Friday night, you know where we'll be...now pass the Shepherd's Pie nibblers...
Image credit: The Duke
---