The Essential Ingredient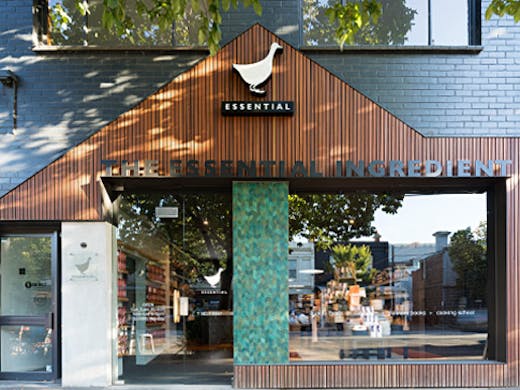 The Verdict
The Essential Ingredient is a Melbourne legend. The cooking school has been going strong for the last 26 years (ever since it was The Vital Ingredient back in the 80s), but it's the cookware retail stores that have become a cult sleeper. If it chops, slices, dices, boils, fries or sous vides, chances are good you can find it here.
The South Melbourne store was the brands second Melbourne home, kicking off in 2016. The space was designed by Ian Wilson from Wilson ID, and it's still warm and friendly: a palate of blues and greys combined with copper cookware light fittings.
The Essential Ingredient has a big focus on locally-sourced ingredients, as well as international cookware brands. They stock a massive selection of professional knives, equipment and culinary books, and their stainless-steel saucepans feature a solid impact-welded base for effective cooking, regardless of what type of cooktop is being used.
They've expanded their own product lines too. You can now get Essential Ingredient caper and cranberry goodies like caper berry crumbs, caper salt and even caper and oregano sauce. Pro tip: their Italian Agrumato Oils are also drool-worthy. The olives are crushed with citrus fruits to create aromatic oils, available in five different flavours. Your salad will thank you.
Love Pepe Saya butter? The Essential Ingredient are the only stockist of Pepe Saya's new product: lemon curd. Perfect for lemon tarts, cakes or even just on a slice of crispy ole' toast.
Check these guys out for all your kitchen needs. The stock rotates pretty regularly, and they're the only store we know that treats new cookware like fashion labels (keep an eye out for the new AW18 stock).
Image credit: Tatjana Plitt
---
You May Also Like
Food & Drink
Melbourne, VIC
Fans of flavour and seafood feasts, listen up. Louisiana-style Crawfish sensation,…