The Hack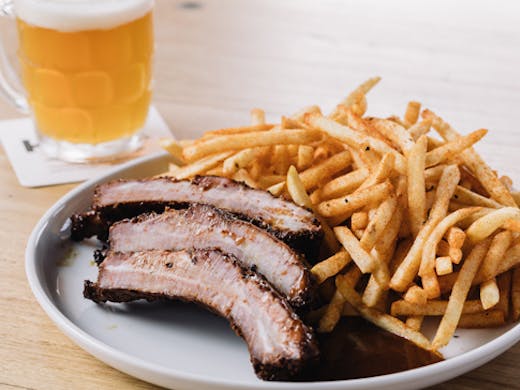 The Verdict
In a sleepy Port Melbourne backstreet, there's a new venue that's changing the whole concept of 'Pub'. It's called The Hack—a cocktail, BBQ and brewhouse set inside a cracked and peeling 1860 heritage building.
From the outside, The Hack looks like your typical Melbourne corner pub. Albeit one that's forgotten to moisturise. Step inside though, and you could be in a contemporary Cecil St cafe, or an upmarket CBD cocktail lounge. You've got a dangling canopy of Edison bulbs, mint pastel highlights, blonde timber, fronds of greenery and the kind of planter pots you see on Pinterest boards. We dunno if there's such a thing as 'pub porn', but maybe The Hack can start the trend.
And the good times don't stop with the décor...
"We're bringing grouse beer, snazzy cocktails and American style pit-smoked meats to sunny Port Melbourne," The Hack's website proudly declares. And just between us, Port Melbourne could do with a little more 'grouse'.
Co-owner Chris Nicholls and his partners own Hack Brewing, which has been gypsy brewing since November last year. This is their first proper bricks and mortar digs. They knew they wanted a food menu to match the boutique beer and snazzy cocktails, so they enlisted Kevin Dick (and his partner, Sheree) from Limp Brisket to smoke the hell out of the place.
Our pick is definitely the Classic Limp Brisket bun—layered with tender, smoked brisket, spiked with McClure's pickles, mustard and BBQ sauce. If it was legal to marry a sandwich, we'd be all over this thing. Other highlights include (but are not limited to): smoked hot wings with a wicked blue cheese sauce, mac n' cheese croquettes that melt your brain and a vegan pulled jackfruit, named The Iron Jack.
The beers on tap will change regularly, but at the moment you can find Kaiju, a brown ale from Mr Banks, Cavalier's famous pilsner and a nice amber from Exit Brewing, among others.
Did we mention Pimm's Cups and Espresso Martinis on tap? We think our work here is done.
Image credit: Griffin Simm
---